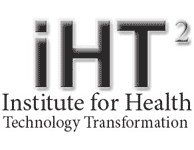 New York, NY (PRWEB) January 17, 2012
The Institute for Health Technology Transformation released a Meaningful Use Special Report today. The report entitled, "Meaningful Use Top 10 – iHT2 Special Report" is available exclusively on the iHT2 Blog at http://www.iHT2Blog.com
The Meaningful Use Top 10 – iHT2 Special Report gives an in-depth analysis of the most current data sets provided by the Centers for Medicare and Medicaid Services, Medicare, and Medicaid EHR Incentive Programs attestations with the Office of the National Coordinator for Health IT, Certified Health IT Products List. The analysis concludes an extensive review of the data set by state, provider type, provider specialty, and practice setting. The Institute compiled a Meaningful Use Top 10 list by vendor, state, and provider specialty.
The data set includes details on almost 23,000 attestations across the U.S. in a variety of specialties. For all of 2011 the Medicare and Medicaid EHR incentive program paid more than $2.5 billion to this group of hospitals and physicians. While final 2011 data won't be available until March the current data present interesting findings and with over 176,000 active registrants for the EHR incentive program, 2012 should significantly outpace 2011 attestations and payments.
The vendor breakdown presented interesting data with Epic representing almost 28% of attestations in 2011. A large gap in market share is apparent with the next closest vendor, eClinicalWorks, capturing 8% of attestations. Some surprises include Cerner in the 10th spot with approximately 2%. Vendor data becomes very dispersed outside the top 10 reinforcing the range of certified EHR providers currently serving the health care market.
For those interested in accessing the Institute's full analysis of the 2011 Medicare and Medicaid attestation data can contact Andrea Thomas, Director of Development, Integrated Media, Institute for Health Technology Transformation (720) 539-1285 or andrea(dot)thomas(at)ihealthtran(dot)com
About the Institute for Health Technology Transformation
The Institute for Health Technology Transformation is the leading organization committed to bringing together private and public sector leaders fostering the growth and effective use of technology across the healthcare industry. Through collaborative efforts the Institute provides programs that drive innovation, educate, and provide a critical understanding of how technology applications, solutions and devices can improve the quality, safety and efficiency of healthcare. http://www.ihealthtran.com
###