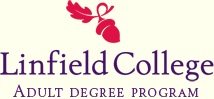 McMinnville, OR (PRWEB) January 17, 2012
Linfield College Adult Degree Program today announces free application for all students who apply before February 20, 2012. The $100 application fee for the bachelor's degree program and the $50 fee for the certificate programs will both be waived. All adult students who apply and then begin their respective program in either the 2012 Spring or Summer semesters, will not have to pay the usual application fee, a savings of up to $100. This free application offer is extended to help aid and encourage adults who have considered going back to school to take the next step toward achieving their educational goals in 2012.
Prospective students may apply for free to any of the Linfield College Adult Degree Programs. Linfield offers six accredited online degrees, including the recently added online marketing degree program, and three accredited online certificate programs. Four additional degree and certificate programs are also offered in a hybrid online/classroom format through Linfield's McMinnville and Portland, Oregon campuses. All students who apply must register for a Linfield Adult Degree Program course by June 25, 2012.
"Giving the opportunity to apply for free to any of the degree or certificate programs greatly encourages prospective students to pursue their academic and career goals," said Kate Bemis, Dean of Continuing Education at Linfield College. "The Linfield academic advisors will guide each new student with setting up an academic plan of courses, to ensure that they can meet the requirements for the degree selected, so they are ready to begin their pursuit in either the Spring or Summer of 2012."
Financial aid, grants and loans are available to all eligible Adult Degree Program students for both the available degree and certificate programs. Linfield also awards college credit for life experience, which can significantly decrease the cost and number of courses needed to earn a bachelor's degree.
Students applying to one of the Linfield Adult Degree Programs have access to online tutoring services and state of the art online university library resources as well. In addition, those students who apply for free before February 20, will be eligible to attend the Path to Scholarships Workshops, which will be held in Portland, OR on January 28, 2012 or as a Webinar on February 4, 2012. On average, students who participated in these sessions last year won an average of $6,000 in scholarships, making the goal to go back college that much more achievable.
So why wait? Apply today and begin working toward your bachelor's degree or certificate, all online. Registration for Spring classes ends on February 10, 2012.
About Linfield College Adult Degree Program
Chartered in 1858, Linfield is one of the first colleges in the Pacific Northwest and is regionally accredited by the Northwest Commission on Colleges and Universities. The Adult Degree Program offers adults the opportunity to earn a bachelor's degree or certificate in both online and hybrid (combination online and classroom) settings.
Online programs offered by Linfield's Adult Degree Program include the Bachelor of Science degrees in accounting, management marketing, social and behavioral sciences, RN to BSN, and international business, and certificates in accounting, human resource management and marketing.
###