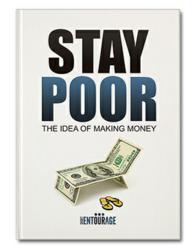 Secret Entourage is a movement by Generation Y to help Generation Y ultimately becoming the guide and resource to a successful life regardless of what the definition of success is.
Washington, DC (PRWEB) January 18, 2012
It is hard to believe that it has now been three years since Secret Entourage first launched in January of 2009. The movement has come a long way since its debut with some of the most drastic changes aiding the rebirth of the site this past year. Enhanced with a redefined logo, spectacular new design, and new private community, the masterminds behind Secret Entourage have been hard at work during 2011 to ensure that the rebirth of entrepreneurship takes place in 2012.
Secret Entourage was founded on the basis that successful entrepreneurs believed that the word "entrepreneur" had lost its glamour and true meaning and ultimately it's true definition was being lost in a changing economic climate. It has now been three years since the birth of our brand and our movement aims to change that perception and image and help unite all successful proven entrepreneurs wishing to participate in our cause and help bring a proven resource for those wishing to succeed in their endeavors.
Movements are often formed to help fight something of negative value, and often help create a way for the hopeless. While they might hold value in finding cures for diseases or helping the hopeless, Secret Entourage does things differently by providing more help to those that choose to help themselves; those that have taken the right path but need an extra push and more importantly those that have the determination but lack the experience, ultimately helping more entrepreneurs and people live better lives. Secret Entourage does this through its unique twist of entrepreneur success stories, which encompass both motivational and lifestyle elements together.
2011 marked an important year for Secret Entourage as their vision finally came to life through the rebirth of our design and logo as mentioned earlier, but also helped us introduce the world to our resource of amazing lifestyle and entrepreneur eBooks, all written with the purpose of helping great people achieve more, but more importantly written from the perspective of someone with proven experience that has gone through the experiences needed to share their knowledge in an impactful way to the reader. The seven eBooks that were introduced in 2012 are only the beginning of a very vast library of eBooks that will be released over the course of the year. Our eBooks can also be seen on Amazon, iTunes and Barnes and Nobles, all right around $10.00 giving unbeatable value to our followers and readers.
2012 will mark an important year for Secret Entourage with significant enhancements to our brand, with magazine style designs for our content, a much more active entrepreneur forum, the introduction of our print books on retail shelves everywhere, and last but not least, the birth of Secret Entourage print magazine. All of these changes coupled with great new content in collaboration with proven successful entrepreneurs such as MJ DeMarco of Fast Lane Entrepreneurs and Adam Toren and Matthew Toren of Young Entrepreneur and much more, are guaranteed to bring our viewers an even better experience than last year.
2012 promises to be a big year for Secret Entourage especially seeing their existing growth has attracted over 120,000 followers with no advertising, and has helped bring together over 500 qualified entrepreneurs in the movement committed to helping establish this new authority in entrepreneurship.
###