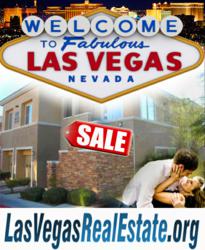 Las Vegas Condos for Sale Hit Record Sales As Average Medium Price Hits $62K"
(PRWEB) January 17, 2012
Las Vegas condos for sale are becoming a must buy for savvy investors, buyers and retirees looking for affordable solutions that deliver the best lifestyle. LasVegasRealEstate.org concurs Trulia research showing Las Vegas homes ranked as #1 in America for price-to-rent ratio. The current medium price for a 3-bedroom home in Las Vegas is $122,000 with 2-bedroom condos at almost half that amount with a medium price of $62,700.
Ashley McCormick of Realty One, Nevada's number one real estate company, says that while the first interest in these condos may be price, the buyers and investors are discovering a vacation lifestyle in Las Vegas they can't find anywhere else for the money. Allegiant Air, based out of Las Vegas, now connects to over 50+ cities averaging under $200 round trip. A large portion of buyers are now using Vegas as an affordable winter get-a-way enjoying the amenities of their own private condo.
McCormick also notes that tourist are becoming more educated on opportunities such as condos hotels like the MGM Signature for sale which start at $165K. A condo hotel is where a buyer or investor actually picks out and purchases their own hotel room and owns it. Then, the owner can put it in a rental pool thru on-sight management and rent it out when they are not there. There are currently three of these popular options in Vegas to include The Signature at MGM Grand, Palms Place Condos and the 5-Star TRUMP Las Vegas.
Over the last 6-months the luxury Las Vegas high rise condos for sale have seen record sales with 90% all-cash buyers. McCormick notes that this is one market that is starting to see appreciation as inventory is being bought up and no new developments are being built. Recently, 276 remaining units of Turnberry Towers was purchased by an LA private equity fund. Luxury high rise condos such as Panorama Towers is up $50K+ from the beginning of the year starting at $169K and only has 23-units left on the resale market today.
While buyers and investors are purchasing site-unseen based only on price, McCormick recommends using a condo specialist willing to accommodate a virtual-tour thru images and video. She mentions that with over 1000+ bank owned properties on the market, using a specialist familiar with the condo market could mean the difference between a golf course view or pool side condo for the same money. Due to the demand in Las Vegas Condos, Ashley has recently set up a toll free line for out-of-state and foreign investors at 1-888-920-2292. Las Vegas condos for sale along with all 15,000+ Las Vegas homes and condos can be searched at http://www.LasVegasRealEstate.org
###