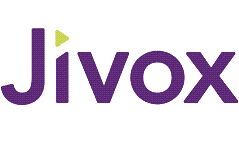 San Mateo, Calif (PRWEB) January 17, 2012
Jivox today announced record growth in 2011 with rapid adoption of its multi-screen interactive video advertising technology among leading publishers and advertisers.
Key milestones in 2011 included:

Rapid publisher adoption: Added several leading publishers, including adBrite, Budget Travel, FoxNews.com, Glenn Beck TV, Hearst Communications, New York Daily News, Orbitz, Readers Digest and YuMe.
Significant revenue growth: Increased revenue by 100 percent year-over-year due to increased demand from publishers and agencies for interactive video ads.
Record ad creation and delivery: Created and delivered approximately 12,000 interactive video ads for both large and small agencies and publishers.
Released several key product releases: Introduced several new ad units, richer analytics and advanced editing and layout capabilities.
Funding: Received $8.2 million in funding in a financing round led by Fortisure Ventures and with participation by all existing investors.
"Online video has reached an inflection point and advertisers are now looking to take it to the next level with more interactive and engaging video ads that reach consumers on multiple screens," said Diaz Nesamoney, CEO of Jivox. "Historically, the technological hurdles of creating and delivering interactive ads on more than one screen have been difficult for publishers and brands. Our platform makes it easy to deliver ads that engage and extend consumer dialogue in real-time and across multiple screens, as such we expect adoption to continue to rapidly increase."
According to eMarketer, online video ad spending should jump 40 percent year-over-year in 2012, reaching $3.1 billion. eMarketer believes the increasing boost in budgets will continue to be powered by mobile and pre-roll video advertisements. After a strong 2011, Jivox is poised to experience increased adoption as more publishers and advertisers look for a way to deliver highly-engaging video ads across multiple screens.
About Jivox
Jivox is the leading multi-screen interactive video advertising technology company. The Jivox platform enables brand advertisers, digital agencies and publishers to deliver highly engaging video ads powered by interactive and social sharing features. Using Jivox creative tools, interactive video ads can be easily authored and delivered instream, in-banner and on mobile devices and tablets. Jivox technology eliminates typical challenges associated with delivering video ads across multiple screens and connected devices, such as HTML5/Flash, operating systems, browsers, video encoding, form factor and other issues. Jivox also provides sophisticated campaign performance tracking, brand awareness and purchase intent analytics for advertisers via BrandGage -- its proprietary real-time analytics platform. The Jivox platform is used by several hundred media companies and agencies including AdBrite, Bloomberg, Weather Underground, Sun Times Media, InteractiveOne, Starcom, OMD, FUOR Digital, GroupM and Lee Enterprises. For examples of Jivox ads see: http://www.jivox.com/demoads.
###