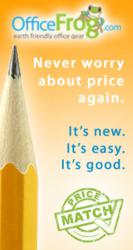 Our customers tell us it is important we stay price competitive going forward.
Grand Rapids, MI (PRWEB) January 18, 2012
OfficeFrog.com, an online retailer of office supplies with a dedication to helping companies become more earth friendly with their product purchasing, kicks of 2012 by taking the worry of best price out of the equation for its customers. Introducing a Price Match Guarantee, OfficeFrog.com customers can shop with confidence they will be able to get a competitive price on their purchases.
"We listened to our customers and they said price was a key factor when buying from us" explained David Conner, Co-Founder, OfficeFrog.com. "They also said it's important we stay price competitive going forward."
Aimed at helping buyers keep their expenses in line with budgets the OfficeFrog.com Price Match Guarantee makes it simple. If a customer finds a lower price online we will match that price for the identical item. We will also guarantee a customer's purchase price for up to one week after the purchase date.
To make a claim customers need to simply send an email with an existing OfficeFrog.com order number containing the item requesting to be price matched, the OfficeFrog.com product number, the competitor's website and an link to the lower priced item. Once validated, an OfficeFrog.com Price Match specialist will process a qualifying request.
The OfficeFrog.com Price Match Guarantee, along with making easy for offices to be green, now gives a business owner the ability to manage costs and simply do their part to help replenish the earth's resources.
About About OfficeFrog.com:
Now in its second year of customer growth, OfficeFrog was founded with a simple goal...make every workplace more earth friendly. Everything we offer carries with it an easy way of "giving back" to help replenish the earth.
As an independent retailer of office supplies and workplace products OfficeFrog.com buyers can shop for copy paper, toner cartridges, ink cartridges, pens, pencils, markers, staplers, scissors, office technology, calendars, appointment books, file folders, notebooks, legal pads, report covers, envelopes, labels, binders, paper towels, toilet paper, cutlery, paper products, containers, organizers, sorters, racks, trays, storage boxes, and most everything needed to make their workplace more earth friendly.
OfficeFrog believes in benefiting the earth's ability to replenish the natural resources consumed in the manufacturing of office products used every day. Our stewardship efforts to replenish the earth's resources are clearly seen with the products we offer to our customers, using recycled materials when shipping, the ongoing donations we make to plant trees throughout the world, and the reduction of our carbon footprint as we operate. We also provide a simple way for shoppers to select green products we've already identified as the most earth friendly items in their category as well as the best performing products for your office. Whether you choose Friendly, Friendlier, or Friendliest we hope you'll return knowing every time you make a purchase from OfficeFrog.com you are always "doing your part" to help our environment recover in the most natural way possible.
For further information please contact:
David Conner
OfficeFrog, LLC
1-877-693-7211
###