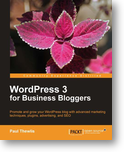 Birmingham,UK (PRWEB) January 17, 2012
Packt is pleased to announce WordPress 3 for Business Bloggers , a new book that will help users to promote and grow their WordPress blog with advanced marketing techniques, plugins, advertising, and SEO. Written by Paul Thewlis, this book will enable users to use WordPress to create a winning blog for their business and to develop and transform their blog with strategic goals.
WordPress is a free and open source blogging tool and publishing platform powered by PHP and MySQL, which is often customized into a content management system (CMS). This mature and stable product is the official successor of b2/cafelog, and can be completely customizable to be used for almost anything.
WordPress 3 for Business Bloggers will teach readers to use analytics to understand their visitors, to market their blog online, and to foster connections with other bloggers to increase their traffic and the value of their blog. Furthermore, readers will be able to identify their blog's strategic goals and grow it to its full business potential, learn how to build a custom theme for their blog and incorporate multimedia content like images and video, and finally create a blog that brings real benefits to their business.
Using this book, developers will learn to develop a blogging business plan, to build a custom theme so that the look of their blog immediately communicates their brand to visitors, to engage with the blogosphere and create beneficial relationships with other bloggers, to optimize their site for search by incorporating good SEO practices into their blog strategy and content, and to use social media marketing such as Twitter, Facebook, Digg, Reddit and Delicious to drive traffic to their blog.
A practical, hands-on guide, this book is ideal for anybody, who wishes to run or start a business blog using WordPress, whether they plan to use their blog for PR and marketing, or want to profit directly from blogging. The book is out now and available from Packt. For more information, please visit:http://www.packtpub.com/wordpress-3-for-business-bloggers/book
###