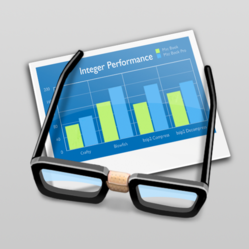 Portland, OR (PRWEB) January 18, 2012
Primate Labs, developer of the popular cross-platform Geekbench benchmark, is pleased to announce the immediate availability of Geekbench 2 for Android in the Android Market at https://market.android.com/details?id=ca.primatelabs.geekbench2
"One of the key benefits of Geekbench 2 for Android is that it uses the same benchmarks as Geekbench 2 on other platforms," says John Poole, founder of Primate Labs. "This means Geekbench 2 for Android produces results that are comparable across platforms. Users can not only compare their results against other Android devices, but also against iPhones, iPads, PCs, and Macs."
Using a variety of benchmarks designed to simulate real-world scenarios, Geekbench 2 for Android quickly and accurately measures both processor and memory performance. After running the benchmarks, Geekbench 2 displays an overall score for the device, and individual scores for each benchmarks. The overall score allows users to quickly compare different devices, while the individual scores allow users to discover the strengths and weaknesses of different devices.
Geekbench 2 for Android is also multi-core aware, enabling users to discover the full potential of the latest dual-core and quad-core Android handsets and tablets.
Geekbench 2 for Android features a simple user interface with no options or settings to worry about, taking the guesswork out of running benchmarks and helping improve the repeatability and reliability of benchmark results.
Like Geekbench 2 on other platforms, Geekbench 2 for Android integrates with the Geekbench Result Browser, allowing users to easily upload, manage, and share their Android benchmark results. Users can also compare their results with other users' results; with over 500,000 Geekbench results, the Geekbench Result Browser provides a rich and varied database for comparisons.
Geekbench 2 for Android is available today for $0.99 in the Android Market at https://market.android.com/details?id=ca.primatelabs.geekbench2
Geekbench 2 for Android requires a device running Android 2.3.7 or later on an ARM processor.
About Primate Labs
Founded in 2007, Primate Labs specializes in developing cross-platform performance and system monitoring tools. Primate Labs is located in Portland, Oregon.
###