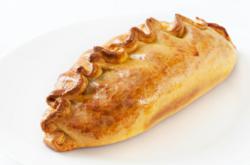 The pasty is one of the great icons of Cornwall !
(PRWEB UK) 17 January 2012
The Eden Project in Cornwall is to host the first-ever World Pasty Championship. The Richardson Hotels are helping this big event in the region. Celebration of Cornwall's most famous dish sees professional and amateur bakers parade their recipes. The new event is to take place at the Eden Bakery between the famous Biomes on March 3, 2012, the Saturday before St Piran's Day (March 5) which celebrates the national day of Cornwall.
Pasty-makers from Cornwall, nationally and internationally will be invited to enter, but only bakers in Cornwall will be eligible for the Cornish Pasty class. The event is supported by the Cornish Pasty Association (CPA), which achieved European Union Protected Geographical Indication, earlier this year. That means only pasty makers based in Cornwall who make pasties in a traditional manner and follow a traditional recipe are able to label their products as Cornish pasties.
Eden will announce full entry details for the World Pasty Championships on http://www.edenproject.com.
The CPA represents more than 50 bakers and the event will help showcase local suppliers who sustain the industry in Cornwall, which is worth £65m to the economy.
"The pasty is one of the great icons of Cornwall and also one of its best exports, carried in the hands of all those hardy mining families who left this coast and who took their skills – and their favourite food – across the world," said Gaynor Coley, Managing Director of the Eden Project.
"The World Pasty Championships at the Eden Project will be a joyous celebration of that tradition and the vibrant industry of today. We'll be inviting people to come from far and wide – and to bring their pasties with them!" he added.
If you would like to participate at this event, there are plenty Cornish hotels to choose from. Make sure to look for hotels by the sea.
Sources:
Weboptimiser News: http://weboptimisernews.com
The Richardson Hotels: http://www.richardsonhotels.co.uk
###