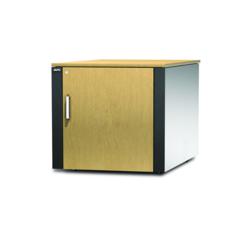 Schneider Electric's NetShelter CX Mini is a purpose built mini-vault designed to protect, power and cool IT equipment
London, United Kingdom (PRWEB UK) 17 January 2012
Schneider Electric, a global specialist in energy management, has announced the availability of its NetShelter CX Mini - a compact version of the company's award-winning NetShelter CX 'server room in a box' range. The CX "Mini" is a purpose built IT server enclosure aimed at small, non-IT spaces such as Home Office, School, AV, Small Office and Remote Office environments.
Dale Wrangles, UK Vice President of Schneider Electric said: "NetShelter CX Mini provides a quick, professional and low-capital solution for housing small IT network solutions. The new enclosure means that customers can benefit from Schneider Electric's standardised and modular approach to power, cooling and housing equipment - increasing the security, reliability and availability of IT services."
The NetShelter CX Mini comes equipped with integrated ventilation, soundproofing and a basic power strip. Its wood veneered finish blends with office furniture and fittings to provide a discrete and anonymous housing for network equipment. NetShelter CX Mini is compact enough to be stowed under a desk, alternatively its durable worktop provides an ideal surface on which to stand printers, fax machines or other equipment.
Designed specifically for small business networks and premises without dedicated IT spaces, NetShelter CX can house a complete IT installation comprising one or two servers, plus network hardware and associated peripheral devices. It features ultra-low noise fans and impressive sound-proofing capabilities, which combine to ensure housed equipment is effectively cooled while audible server and hardware noise is reduced by 18dBA to normal office background levels.
The new enclosure is "plug and play" for intuitive installation and comes with lockable doors and a 2-year warranty. NetShelter CX Mini accepts tower form-factor servers, but can be easily converted for rack-mounted servers using an optional 12U slide rail conversion kit. The new enclosure provides an ideal entry point into APC solutions for all IT housing requirements, from small standalone installations and wiring closets, through to comms rooms, computer rooms and data centres.
For further information about NetShelter CX Mini and other products in the range please visit the Schneider Electric website at http://www.schneider-electric.com. For a 3D virtual tour of the NetShelter CX enclosure click here.
About Schneider Electric
As a global specialist in energy management with operations in more than 100 countries, Schneider Electric offers integrated solutions across multiple market segments, including leadership positions in energy and infrastructure, industrial processes, building automation, and data centers/networks, as well as a broad presence in residential applications. Focused on making energy safe, reliable, and efficient, the company's 110,000 plus employees achieved sales of more than $26 billion in 2010, through an active commitment to help individuals and organizations "Make the most of their energy."
http://www.schneider-electric.com
###