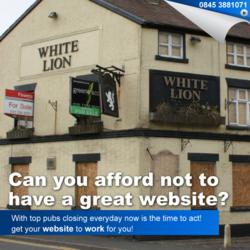 Being able to throw a marketing agency budget weight behind a good product is easy enough. Having the good product and service in the first instance is the hard part.
(PRWEB) January 19, 2012
Pulling in the punters through websites has been the thorn in the side of the pub industry. Smarter Pub joins forces with Pub Rooms to provide British Pubs and Inns with good advice for marketing their pub offers and services through the internet.
For the last 10 years the penny has been slowly dropping for pub owners, customers no longer wait for pub doors to open, with the possible exception of Wetherpoon pubs.
Real life customers research pubs on the internet before visiting in person or meeting up in groups. Men no longer go out on their own and pubs are much more family orientated.
It's for all these reasons and the lack of use of internet marketing that Pub Rooms has joined forces with Smarter Pub to provide help for pubs across the UK.
As each failed pub closes another penny drops but only after it's too late. The route cause isn't the ban on smoking and super markets selling cheap booze. The route cause is much more simple.
Landlords are not marketing professionals and fail to take advise from experienced marketing people.
Whilst the big players with big marketing budgets go from strength to strength it is clear to see the why they are winners.
Both Fullers and Greene King have just anounced record profist during Christmas 2011 and so has Oakham Inns and Restuarants, so why are they any different? How can one pub take nearly £70k in one week and another struggle to bring this amount in during the entire year? Is it really down to marketing.
Being able to throw a marketing agency budget weight behind a good product is easy enough. Having the good product and service in the first instance is the hard part. The public know what they want so are the any better off knowing what they already knew by smart marketing campaigns. The Greene King £1.5M campaign to promote real proper pubs almost fell on deaf ears but something worked for them to make a record profit in such tough ecomonic times.
The Flaming Grills and the Sizzling pubs not including Wetherspoon pubs are practically on every high street.
With high visibility the public can see what's on offer. The internet is more important when fidning something a bit different is the objective.
This is something the Free House pubs have failed to realise over the last 5 years. Or at least the ones not able to stay open.
It's not the reason why so many have failed but it does beg the question, how many would still be open had punters found out about what was on offer through simple internet marketing.
And whilst internet sales on the High Streets indicate gloomy times ahead, is it going to be the same for the pubs and bars on British High Streets during 2012, tougher business.
Possibly not. Ask the same question about rural and community pubs and the answer is somewhat blurred.
Just as out of town shopping centres (along with internet shopping) has practically killed off local town shopping, small town pubs are suffering too.
Can a website for a pub save it from falling footfall and closure.
The average landlord thinks not, yet landords using the internet to market their pub have a different story to tell.
And so does AM Communications, the internet solution behind Pub Rooms. With a multitude of pub and hotel websites benefitting from internet marketing supplied by AM Communications the message is simple. Get your website visible and clearly display what's on offer. It can only lead to positive things.
This is only suitable if the pub truly has a genuine good offer with great service. You would need a black arts magician to take a poor service and poor product to market and come back with record sales.
Get up to speed fast with internet marketing, tell your customers what is on offer and take enquiries directly instead of receiving enquiries from third party booking services.
The marketing starts with introducing the core principles of internet marketing. There are 8 modules to understanding a winning strategy.
Bite size chunks of information that will help any pub website with little traffic to gain high quality traffic that will convert into footfall.
To find out more please contact Peter Jones on 0787 2121 998 quoting smarter pub
###