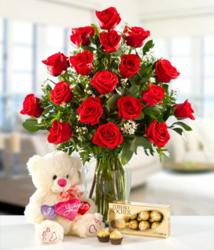 We simply love sending love around the world.
Miami, FL (PRWEB) January 18, 2012
Making it easy to order early for special events such as Valentine's Day is part of the daFlores.com business ethic. Since Valentine's Day is in the top three of flower-giving holidays, the online delivery company is already offering a special Valentine's Day flower range that can be scheduled well ahead.
"We believe in giving our customers choices," explains Mr. Bustos, CEO and President of family-owned daFlores.com. "The earlier they can order, the better it is for them, because they can take care of their giving well in advance. Leaving things to the last minute is stressful. That's why we always start so early in the New Year: it helps people plan."
Mr. Bustos also explains that, the later one waits to order Valentine's Day flowers, the greater the risk becomes of florists simply running out of flowers. While all flower delivery companies have substitution policies, ordering now is the best way to avoid disappointment.
To access the Valentine's Day flower range at daFlores.com, customers need only click the red banner at the top of the categories menu, or select Valentine's Day from the list of occasions. A selection of elegant roses, lilies and other bouquets is offered to meet a variety of budgets and tastes.
"This is our busiest, and one of our favorite, holidays," says Mr. Bustos. "We simply love sending love around the world. Don't kid yourself that sending flowers is old-fashioned. There's nothing—absolutely nothing—that can beat the smile on your loved one's face when he or she opens the door to a Valentine's Day flower delivery."
About daFlores International Flower Delivery Company
daFlores.com is part of FloresaColombia, Inc., a United States corporation. It's based in Miami, Florida. daFlores works with hand-chosen, experienced florists to provide flower arrangements and gift baskets for Valentine's Day and other special occasions. daFlores.com maintains a wide network in the Americas, Europe and Asia.
###