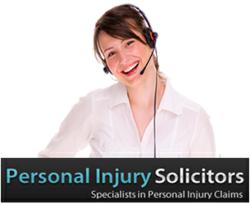 Sound advice on how to secure and maximise your car accident compensation
London (PRWEB UK) 18 January 2012
Car accident victims who are not to blame for the accident are rightfully due compensation but need to be aware of the procedures to follow or they could lose out say Personal Injury Solicitors London.
It's a fundamental principle of UK law that victims of car accidents, who are not to blame, are able to claim compensation for their suffering and loss. There are many instances however where genuine claimants lose out through not following basic procedures.
With over 4,000 reported casualties from road traffic accidents in the UK still occurring every week of the year it's important for those victims to be professionally advised on the procedures to be followed to maximise their chances of a successful compensation pay-out.
Here's the six step procedure to follow when considering a car accident claim.
Call the police
If anyone is injured then call the police and do not leave the scene of the accident.
Collect the accident circumstances
Take the name and contact details of the other people involved in the accident as well as the particulars of the other vehicles involved. If possible take a range of photographs of the accident scene with a mobile phone and be sure to get a note of the police incident number.
Determine liability if possible
If the other party admits liability then take a note of this and try to get it witnessed. Be sure to get the contact details of any witnesses. Take a note of any obvious contravention of road safety rules.
Establish and record any personal injury
It is important to seek medical attention for any injuries sustained to establish a record of the type and extent of the injury as well as any further medical attention that may be needed.
Record all expenses and losses
It is essential to keep detailed records of all costs, disbursements and loss of earnings incurred as a direct consequence of the accident.
Contact an experienced personal injury solicitor
This is the crucial part of the process and the key to a successful claim is to find an experienced personal injury solicitor who is dealing with compensation claims on a day to day basis. Ask about their experience and check out what references and testimonials they can provide from clients who they have achieved successful compensation claims for.
Taking time to follow these simple procedures will significantly improve the likelihood of a successful compensation claim for all road accident victims considering making a claim.
Personal Injury Solicitors London are specialists in road accident claims with one of the most experienced compensation teams in the country. Additional services include a wide range of personal injury claims such as injuries at work, industrial disease claims, medical negligence claims, sports injury claims and more.
Personal injury claims are processed on a no win no fee basis and clients are guaranteed to receive 100% of their compensation award as fees and costs are recovered from the opposing side.
Contact Personal Injury Solicitors London for the best legal advice and client service for a wide range of personal injury claims.
###