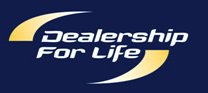 Dealership for Life's new collaboration with DealerSync adds more effectiveness – and verification of that effectiveness -- to its customer retention programs.
Hagerstown, MD (PRWEB) January 18, 2012
Retention company Dealership for Life and fixed operations intelligence software provider DealerSync have partnered to help auto dealership service and parts managers increase labor and parts sales while proving the ROI on retention marketing.
Auto dealerships using Dealership for Life's customizable, prepackaged maintenance services retain more service customers and enjoy significantly greater customer-pay parts and labor profits as a result. Dealers using Dealership for Life services can enjoy fixed operations absorption of 112 percent and more.
"We know that 86 percent of a dealership's customers will repurchase services and vehicles if their dealership actively engages with them," said Paul Healy, CEO, Dealership for Life. "This engagement encourages and rewards their continued use of the dealership's service department for their scheduled maintenance services.
"Retention like this means increased parts and labor sales, as well as vehicle repurchases," Healy added, "and our new collaboration with service and parts intelligence powerhouse DealerSync now adds even more effectiveness – and verification of that effectiveness -- to our retention programs."
DealerSync CEO and President Mike Kutsner said because DealerSync mines DMS customer and service data so deeply, it finds new sales and profit opportunities hidden deep inside. DealerSync reports these and other key program and service/parts department metrics to help managers further increase profits and improve CSI.
Information is the energy that powers today's businesses. The use of mobile devices has outpaced the traditional desktop and is now a preferred method for many business professionals to consume information. Thus, with DealerSync Mobile, fixed operations can assemble and deliver business intelligence applications for dealer principals, fixed operations directors, and service and parts managers much more rapidly and cost effectively than ever before, through direct and native support of mobile platforms, including iPad and iPhone.
Dealership for Life now offers DealerSync service verification and training as a premium service, which includes service performance and parts inventory data analysis with reporting and reviews supported by DealerSync's service and parts specialists. DealerSync benefits also include:

Analysis and presentation of such actionable metrics as program member usage and retention, parts and labor sales, inventory aging, inventory performance, blind monthly reconciliations and more
Intense data-rich retention program reports that give managers clearer, more relevant performance insights into revenue and expense streams, and technician and advisor performance metrics, including upsell results
Data-based evidence for measuring retention marketing program ROI
"Dealerships using Dealership for Life's premium package retention program now also enjoy powerful analytics useful for measuring, monitoring and holding staff accountable for improving productivity and profitability," said DealerSync's Kutsner.
Dealership for Life rewards and prepackaged maintenance retention services feature:
Automated customer engagement events, including unlimited email campaigns, service reminders and mailers, text messaging and voice broadcast, text messaging and video emails, and a customer website with daily rewards and specials updates
Full color point-of-sale materials, including dealer-specific brochures and posters
Dealer administration with full DMS integration
Monthly points statements and coupons
Complete in-dealership and online staff training to ensure optimum dealership usage
"Dealerships choosing the DealerSync program now benefit from having an outside company analyzing all data pertaining to customer activities related to their use of their Dealership for Life prepackaged maintenance services," Healy said. "This verification process ensures that every dealer's program works as promised. This partnership will allow dealers to really make sure that everyone in the dealership is using their Advantage Plan correctly."
"For dealers who need measurable evidence of retention marketing program effectiveness, this collaboration with DealerSync delivers the proven ROI these dealers seek," Healy added.
For more information, contact Paul Healy, CEO, Dealership for Life, at 410-790-0570 or paul(at)dealershipforlife(dot)com. Visit http://www.dealershipforlife.com
###