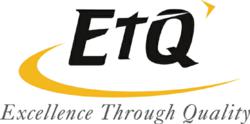 EtQ's Tom Barlow will present the topic "GFSI Compliance and Automated Quality Management Systems—What does it mean to your organization?" at 2:10 pm on Wednesday, January 25th
Farmingdale, NY (PRWEB) January 19, 2012
EtQ, Inc., is pleased to announce that they will be speaking at the Food Manufacturing and Safety Forum 2012 to be held on January 25th and 26th at the Westin Galleria in Dallas, TX.
EtQ's Tom Barlow will present the topic "GFSI Compliance and Automated Quality Management Systems—What does it mean to your organization?" at 2:10 pm on Wednesday, January 25th.
During this session, attendees will learn the ways in which food safety initiatives have evolved throughout the years as well as the changes that have resulted from this evolution. It will also look into the convergence of Quality and Food Safety Management systems, and the convergence of processes—such as Hazard Analysis and Critical Control Points (HACCP), Document Control, and Risk Management.
EtQ will also be exhibiting at the Food Manufacturing and Safety Forum. For more information or to view a demo, visit EtQ on the Web at http://www.etq.com.
About the Food Manufacturing and Safety Forum
The 2nd Annual Food Manufacturing & Safety Forum 2012 will discuss the key challenges facing food and beverage manufacturers in today's economy. Through a combination of case studies, keynote sessions, interactive workshops, attendees will learn how to streamline production processes, improve efficiency while ensuring quality and regulatory compliance.
About EtQ
EtQ is the leading Enterprise Quality and Compliance Management software for identifying, mitigating, and preventing high-risk events through integration, automation, and collaboration. EtQ uses best-in-class, integrated modules and enterprise application integration to manage and measure quality and compliance processes and execute organizational change. Key modules within the product include Risk Management, Corrective and Preventive Action (CAPA), Document Control, Audits, HACCP, Complaint Handling, Change Management, Employee Training, Project Management, Nonconforming Materials, Enterprise Reporting, and more than 20 additional compliance-oriented modules. With its world-class flexible workflow, collaborative platform, EtQ has developed a unique niche to support enterprises involved in various compliance management initiatives such as cGxP (FDA), ISO 13485, ISO 9001:2008, ISO/TS 16949, ISO 14001, ISO 22000, AS 9001, TL 9000, OHSAS 18001, RoHS, Sarbanes-Oxley, HACCP, SQF, BRC, IFS, and similar standards for compliance and regulatory management. EtQ has been providing compliance solutions to a variety of markets for over 15 years.
For more information or to schedule a virtual demo, contact EtQ Inc., at 800-354-4476 or 516-293-0949, or e-mail us at info(at)etq(dot)com. Visit us on the Web at http://www.etq.com.
###