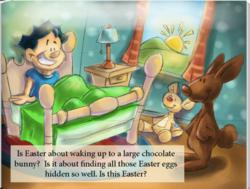 iBook, What is Easter all about is available free for a limited time on the iTunes store.
Flanders, NJ (PRWEB) January 19, 2012
JMG Studio's latest book, What is Easter About, is now available for FREE download on the iTunes app store.
Filled with gentle humor and warm illustrations, this wonderful book by John-Marc Grob helps teach children the meaning of Easter from a Christian world view. An easy read for beginners, it also makes the perfect story for parents, grandparents and guardians to read to the younger children in their lives.
As a reminder of who Jesus is and why He came to live among us, it's great to read at Easter or any time of the year!
"For God so loved the world that he gave his only begotten Son that whosoever believeth in Him would not perish but have everlasting life." – John 3:16
What Is Easter All About is just one of a series of books for the whole family from John-Marc Grob and JMG Studio. More titles are available at the iTunes store.
About JMG Studio. JMG Studio creates children's books for print and for the iPhone. They have partnered with Memory Cross, Inc to create cards such as the ABC Flash cards with companion apps which are also available on the iTunes app store.
###