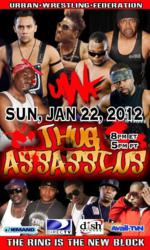 Thug Assassins Premiers on PPV Sunday January 22nd, 8 PM et/ 5 PM pt
New York, NY (PRWEB) January 17, 2012
The battles between the Urban Wrestling Federation crews have reached a boiling point over the past three installments, but fans are in for the unexpected when "Thug Assassins" hit on January 22nd.
The most exhilarating action to hit sports entertainment, The Urban Wrestling Federation is a strategically paired combination of extreme professional wrestling and hip-hop music run by UWF CEO & Boss, Steve "The Hustler" Karel. Urban music moguls from around the country bring their crews to compete for the title, the money and the respect.
The past 3 UWF events, "First Blood," "Street Kings" and "Hood Justice," laid out the stakes and brought the crews head-to-head. For the "Thug Assassins" event, it's rumored that East New York's Uncle Murda is looking for revenge on the entire Atlanta crew, a feud that goes back to "First Blood" when Murder One made a sneak attack on Lowlife Louie and shanked him, brining the first ever blood shed to the UWF. Slyck Wagner Brown has unfinished business with Ruckus and is ready to take him out. Famous B of 40 Glocc's gang is out for Billy Blue's solider Jeez after getting beat by him in the Five Way War at "Hood Justice," which also featured Willie Mack, Bandito Jr., and Scorpio Sky, and now he wants him One On One.
Maybach Music Group's TRIPLE C's (Gunplay, Torch, Young Breed) will be making their presence felt and are gunning for everyone, plus the debut of two new players in the game with their own crews: the Prince of New York DJ SELF, and the Chi-town crew of the LEP BOGUS BOYS have their eyes set on infiltrating Uncle Murda's business. These battles are just a tip of the mayhem that guarantees jam-packed action come Sunday.
The UWF January event, "Thug Assassins" is scheduled to premiere nationally on Pay-Per-View Sunday, January 22nd at 8 PM EST, 5 PM PST.
URBAN WRESTLING FEDERATION
The Urban Wrestling Federation, is a dynamic and exhilarating performance collaboration between the worlds of hip-hop music and professional wrestling. Created by television and live events veteran, Steve Karel, the UWF premiered in the summer of 2011 with "First Blood," which was filmed at New York's Hammerstein Ballroom and locations across the country. Full schedules, additional content, branded clothing and products can be seen at http://www.UrbanWrestlingFederaton.com
Official Website: http://www.urbanwrestlingfederation.com
Youtube: http://www.youtube.com/urbanwrestlingpromo
Facebook: http://www.facebook.com/UrbanWrestlingFederation
Twitter: http://www.twitter.com/#!/UrbnWrestlingFd
iNDEMAND
Debut: January 22nd –8:00 PM & 11:00 PM iN1
1/23/12 2:00 PM & 10:00 PM iN3
1/23/12 5:00 PM HDPV
1/24/12 1:00 AM, 7:00 AM, 11:00 AM & 6:00 PM HDPV
1/24/12 8:00 PM iN3
1/25/12 12:00 AM, 8:00 AM, 2:00 PM & 5:00 PM HDPV
1/25/12 1:00 PM & 11:00 PM iN3
1/25/12 8:00 PM iN1
1/26/12 10:00 AM, 1:00 PM, 7:00 PM & 11:00 PM HDPV
1/26/12 6:00 PM iN3
1/27/12 1:00 AM, 9:00 AM, 12:00 PM & 6:00 PM HDPV
1/27/12 1:00 PM iN3
1/27/12 9:00 PM iN1
1/28/12 7:00 AM, 12:00 PM, 3:00 PM & 9:00 PM HDPV
1/28/12 9:00 AM & 12:00 AM iN3
1/28/12 2:00 PM iN1
1/30/12 4:00 PM iN3
1/30/12 9:00 PM iN1
1/31/12 8:00 PM iN1
2/02/12 9:00 PM iN1
2/02/12 1:00 AM HDPV
2/04/12 11:00 AM & 3:00 PM HDPV
2/04/12 3:00 PM iN3
2/06/12 6:00 PM HDPV
2/06/12 10:00 PM iN3
2/07/12 8:00 AM HDPV
2/09/12 7:00 PM HDPV
2/10/12 5:00 PM HDPV
2/11/12 7:00 PM iN1
2/11/12 8:00 PM HDPV
2/12/12 9:00 AM iN1
2/13/12 10:00 AM iN3
2/13/12 8:00 PM iN1
2/15/12 6:00 PM HDPV
2/16/12 1:00 AM HDPV
2/17/12 8:00 PM iN3
2/17/12 11:00 PM HDPV
2/18/12 4:00 PM iN1
2/22/12 12:00 PM iN3
2/22/12 11:00 PM iN1
2/23/12 2:00 PM iN3
2/24/12 9:00 PM iN3
2/25/12 8:00 AM iN3
2/25/12 12:00 PM & 6:00 PM HDPV
DIRECTV
Debut: January 22nd
All-day 24-hour Encore Ticket:
1/26/12
1/31/12
DISH Network
All day 24 Hour Encore Ticket:
1/22/12 Premiere (1)
1/23/12 Encore (1)
1/24/12 Encore 2 (1)
Avail TVN Ent
Debut: January 22nd – 10:00 PM
1/23/12 1:00 AM
1/24/12 7:00 AM
1/25/12 2:30 PM & 5:30 PM
1/26/12 6:00 AM
1/27/12 1:00 AM, 5:00 AM & 9:00 AM
1/28/12 1:00 PM
1/29/12 6:00 AM
2/03/12 12:00 AM
2/04/12 5:00 AM
2/05/12 4:00 AM
2/07/12 9:00 AM
2/08/12 2:30 AM
2/10/12 6:00 AM
2/13/12 6:00 AM
2/15/12 7:00 PM
Avail TVN Ent (HD)
1/22/12 10:00 PM
1/23/12 1:00 AM & 9:00 PM
1/24/12 4:30 AM, 6:00 AM & 2:00 PM
1/25/12 3:30 AM & 5:30 PM
1/26/12 12:00 AM & 1:30 PM
1/27/12 1:30 AM & 11:30 AM
1/28/12 10:30 AM
1/29/12 3:00 AM
1/30/12 2:00 AM, 10:30 AM & 5:30 PM
2/01/12 6:00 PM
2/02/12 1:30 PM
2/03/12 1:00 AM, 5:00 AM & 3:30 PM
2/04/12 7:30 AM
2/05/12 10:30 AM & 8:30 PM
2/07/12 2:00 PM
2/08/12 7:30 AM & 8:30 PM
2/09/12 7:00 PM
2/10/12 2:30 AM, 1:30 PM & 10:30 PM
2/11/12 5:00 AM & 3:30 PM
2/12/12 10:00 AM & 4:00 PM
2/13/12 2:00 AM & 1:30 PM
2/14/12 3:30 AM
2/15/12 3:00 PM & 11:30 PM
2/16/12 10:30 AM
2/17/12 7:00 PM
2/18/12 8:00 PM
2/19/12 8:00 AM & 1:30 PM
2/20/12 5:00 AM, 11:00 AM & 7:00 PM
2/21/12 2:00 AM
2/22/12 1:30 PM & 9:00 PM
2/23/12 7:30 AM & 6:00 PM
2/24/12 6:00 AM
2/25/12 2:30 AM & 3:30 PM
2/26/12 5:30 PM
2/27/12 5:00 AM
2/28/12 4:00 PM
2/29/12 9:00 PM
PRESS CONTACT:
James Goll, 917.626.4769
JG(at)24-Group(dot)com
# # #