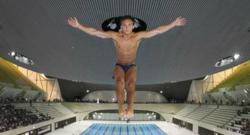 The FINA Visa Diving World Cup will be a top class event and we have worked hard to enable more people to have the opportunity to watch world-class sport in the Olympic Park
(PRWEB) January 17, 2012
More tickets for the 18th FINA Visa Diving World Cup 2012, a London 2012 test event and Olympic Qualifier, will go on sale today at 10am.
The last opportunity for athletes to qualify for Individual and Synchronised Diving at the London 2012 Olympic Games, the 18th FINA Visa Diving World Cup 2012, part of the London Prepares series, takes place from 20-26 February in the iconic Aquatics Centre in the Olympic Park.
Spectators will see world-class competition, including Britain's best divers in a team which may include Tom Daley and Pete Waterfield. The event is supported by UK Sport as part of the World Class Events Programme.
After finalising seating plans, the London 2012 Organising Committee (LOCOG) has been able to put more tickets on sale for the event. Tickets go back on sale at 10am today, Tuesday 17 January, and cost between £10-£30 for full price tickets, and £5-£15 for young people and seniors.
Debbie Jevans, LOCOG Director of Sport said: "We are delighted to be able to offer additional seats for what is an important test event for us. The FINA Visa Diving World Cup will be a top class event and we have worked hard to enable more people to have the opportunity to watch world-class sport in the Olympic Park".
Tickets will go on sale via http://www.ticketmaster.co.uk/londonpreparesseries. As a proud sponsor of London 2012, Visa (debit, credit, prepaid) is the only card accepted for online ticket sales for London Prepares series events.
The London Prepares series is made up of 42 elite competitions in London 2012 venues to test vital areas of LOCOG's operations, focused on the field of play, results, scoring and timing and workforce.
Notes to editors:
For further information please contact the London 2012 Press Office
As it heads towards its £2bn budget for staging the Olympic and Paralympic Games, LOCOG has seven domestic Tier One Partners - adidas, BMW, BP, British Airways, BT, EDF and Lloyds TSB. There are seven domestic Tier Two Supporters – Adecco, ArcelorMittal, Cadbury, Cisco, Deloitte, Thomas Cook and UPS. There are now twenty-eight domestic Tier Three Suppliers and Providers – Aggreko, Airwave, Atkins, Boston Consulting Group, CBS Outdoor, Crystal CG, Eurostar, Freshfields Bruckhaus Deringer LLP, G4S, GSK, Gymnova, Heathrow Airport, Heineken UK, Holiday Inn, John Lewis, McCann Worldgroup, Mondo, NATURE VALLEY, Next, Nielsen, Populous, Rapiscan Systems, Rio Tinto, Technogym, Thames Water, Ticketmaster, Trebor and Westfield.
There is one domestic Tier One Paralympic Games Partner, Sainsbury's and one domestic Tier Three Paralympic Supplier, Otto Bock.
The Worldwide Olympic Partners signed up for London 2012 are Coca-Cola, Acer, Atos, Dow, GE, McDonald's, Omega, Panasonic, Procter and Gamble, Samsung and Visa.
About Visa in the UK
In the UK, there are more than 110 million Visa debit, credit and commercial cards. In the 12 months ending March 2011 those cards were used to make purchases and cash withdrawals to the value of €444 billion.
Visa Europe is owned and operated by more than 4,000 European member banks and was incorporated in July 2004. In October 2007, Visa Europe became independent of the new global Visa Inc., with an exclusive, irrevocable and perpetual licence in Europe. As a dedicated European payment system it is able to respond quickly to the specific market needs of European banks and their customers - cardholders and retailers - and to meet the European Commission's objective to create a true internal market for payments.
Visa enjoys unsurpassed acceptance around the world. In addition, Visa/PLUS is one of the world's largest global ATM networks, offering cash access in local currency in over 200 countries.
UK Sport - World Class Events Programme
UK Sport's World Class Events Programme distributes approximately £3.5 million of Lottery funding each year to support the bidding and staging costs of major events on home soil, as well as providing specialist support to organisers. Over 100 events hosted by at least 35 different towns and cities will have been supported from 2007 until the London 2012 Olympic and Paralympic Games. These competitions will have attracted around 30,000 athletes and provided opportunities for over 27,000 officials and volunteers to gain international sporting experience and develop key skills ahead of London 2012.
FINA
With its 202 Member National Federations over the five continents, the Fédération Internationale de Natation, FINA (founded in 1908 and with its headquarters in Lausanne, Switzerland), is the world governing body of five aquatic sports, all included in the Olympic programme: swimming, marathon swimming, diving, water polo and synchronised swimming .
About British Swimming
British Swimming is the National Governing Body for Swimming, Diving, Synchronised Swimming, Water Polo and Open Water in Great Britain. It is responsible internationally for the high performance representation of the sport. The members of British Swimming are the three Home Countries national governing bodies of England (ASA), Scotland (Scottish ASA) and Wales. (Welsh ASA) British Swimming seeks to enable its athletes to achieve gold medal success at the Olympics, Paralympics, World Championships and Commonwealth Games
###