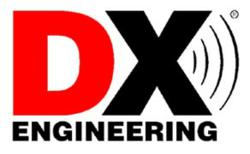 With a short, nearly invisible 26-foot wire, you can be on the air!
Akron, OH (PRWEB) January 17, 2012
DX Engineering's new ATSA-1 Stealth Antenna System allows Amateur Radio operators living in antenna-restricted neighborhoods to get on the air easily. The short, nearly invisible 26-foot wire can cover all bands 40 meters and up. Using a 45-foot wire will extend coverage to 80 meters. This complete system includes a tuning unit, ATSA MatchBoxx™, stainless steel radial plate, antenna wire, bias tee, 2 insulators, radial wire, and all hardware.
The low profile Remote Tuning Unit is easily hidden--just "plant" it in the bushes or shrubs with the supplied spikes and lay out the minimum length radials. You can further camouflage the Tuning Unit with a plastic boulder or other items available at most landscaping stores.
The ATSA-1's tuning engine contains 20,000 non-volatile memories. It features an L-network with wide matching capability, 1.8 to 30 MHz coverage, heavy-duty 10 amp/1000 volt relays, and is rated at 200 watts SSB/CW. The included bias tee is used to insert 12 VDC from a user-supplied power source on the coaxial cable to the remote tuner.
DX Engineering includes the ATSA MatchBoxx™ module, which allows use of almost any length wire--no more "forbidden" lengths as with other end-fed systems. An optional 80 Meter Coil Kit (DXE-SA80-AOK) allows the user to adjust feedpoint impedance to achieve the lowest SWR on the 80 meter band without affecting operation on the higher frequency bands.
Price for DXE-ATSA-1 Stealth Antenna System: $459.95
Price for optional DXE-SA80-AOK 80 Meter Coil Kit: $49.95
For more information or to order, visit http://www.dxengineering.com.
###