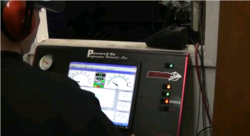 "Dyno tuning is necessary to achieve the performance you want with the reliability you deserve"
Freehold, NJ (PRWEB) January 24, 2012
Custom Crate Engines by Proformance Unlimited is proud to announce the utilization of a Land And Sea Dynamometer.
Dyno testing has always been the benchmark for validating an engines performance and horsepower. Dyno tuned engines ensure customers the confidence and satisfaction of knowing they are receiving an engine producing optimal performance, power output and durability.
Using the Dynamometer affords opportunity to check for water leaks, oil leaks, vibrations and any tuning problems. The results from the test run support and confirms knowledge, workmanship and also horsepower ratings. Pre-tested engines reduce the risk of performance failure upon installation. A live run video and dyno print sheet of the test is a free service offered with each crate engine from Proformance Unlimited.
So when you are in the market for a custom crate engine, make sure you check for dyno proven horsepower.
# # #