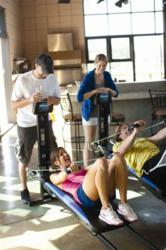 With the money we paid for the gym for years that we didn't use, we could have bought three Total Gyms
West Chester, PA (PRWEB) January 23, 2012
A common scenario for many couples, who belong to a gym, is that he typically goes his way and she goes hers. The Total Gym® XLS, America's best-selling home fitness gym, offers an up-close, intimate workout that allows couples to become workout partners, doing the same exercises at different body weight levels, with each achieving the same fitness gains.
By exercising together at home, couples not only have the opportunity to spend quality time with each other, they can also build a shared commitment to well-being and health that creates mutual motivation and develops a deeper bond between them. When done right, says Dr. Mantell, Total Gym provides couples with opportunities to celebrate each other's successes in a non-competitive way.
Take it from Rebecca and Brian Kiritsy, a husband and wife team who together lost a combined 115 pounds working out at home on the Total Gym.
"With the money we paid for the gym for years that we didn't use, we could have bought three Total Gyms," said Rebecca Kiritsy.
The American Council on Exercise (ACE) suggests another perk for couples who exercise together, citing studies that show men and women, who exercise regularly, report better – and more frequent sex – with their partners.
"Physical improvements in muscle strength and tone, endurance, body composition and cardiovascular function—specifically, enhanced peripheral blood flow—can all enhance sexual functioning," said Dr. Cedric Bryant, chief exercise physiologist and vice president of educational services for ACE.
Take this home with your honey! Dr. Mantell offers "Five Total Gym Workout Date Ideas:"
1. Learn how to stretch each other. Gently helping each other with a pull or push can ease each other's muscles before and after your workout.
2. Build total trust with each other simply by serving as each other's spotter. There's nothing like saying "thanks" to help a relationship.
3. Eye contact and communicating while exercising offer chances for intimacy building that can extend to other activities that are, well, a bit more intimate.
4. Celebrate each other's achievements and successes. Working out on Total Gym is not about competing, but succeeding. You'll both work at your own level and speed, and of course, body weight, so you both win!
5. Want to give each other a real gift of love? Create 20-30 minutes several times a week to help each other lose weight, burn calories, build muscle and core stability, tone up, build body strength and change body composition.
Love is in the air! What a perfect way for couples to celebrate Valentine's Day by getting closer both physically and emotionally with Total Gym.

Dr. Mantell citing studies from the Journal of Sports Medicine and Physical Fitness.
About Total Gym® Direct
The Total Gym® is the ultimate workout machine utilizing an individual's own body weight as resistance to perform more than 80 total-body functional exercises. Total Gym uniquely incorporates the use of multiple muscle groups together in all planes of movement, the most efficient way to exercise and see results. Total Gym, rooted in the physical therapy market since 1986, entered the consumer "home fitness" market in 1996 with the airing of its first television infomercial featuring long-time user Chuck Norris and co-host Christie Brinkley. The Total Gym infomercial is one of the industry's longest-running and most successful; broadcast to 85 countries and credited with sales of over four million units worldwide. For more information, visit http://www.TotalGymDirect.com or call (877) TOTAL - GYM.
###