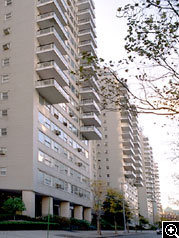 New York, NY (PRWEB) January 18, 2012
CityRealty, a leading New York City apartment search and resource site, today announced its list of Top 10 Inspiring Manhattan Apartment Buildings.
"Some buildings are very important not so much for their architecture, or celebrity, or history, but for pioneering others to follow in their path, inspiring faith in the well-being of their neighborhoods," said Carter B. Horsley, CityRealty editor and architecture expert.
Top 10 Inspiring Manhattan Apartment Buildings
By Carter B. Horsley
1. 998 Fifth Avenue at 81st Street
One of the world's grandest apartment buildings, 998 Fifth Avenue was designed by McKim, Mead & White, the architectural firm that designed the Pennsylvania Station that was demolished in 1964. An inflated Italian Renaissance-style palazzo structure, the building would delight the Medicis and is widely credited with convincing New York's very rich that apartments were acceptable habitats.
2. The Dakota at 1 West 72nd Street
The city's most legendary apartment building, the Dakota is a massive, fortress-like building with a large center courtyard, very large apartments, and an impressive, arched entrance. When it was built in 1884, it towered over the Upper West Side and was an immediate success with all its apartments rented on opening day. The Dakota's success opened up the Upper West Side for luxury apartments.
3. River House at 435 East 52nd Street
Arguably the city's, if not the world's, finest apartment building, River House is the epitome of "swell" living. Erected in 1931 when its area still teemed with tenements, River House established the East River neighborhoods of Beekman Place and Sutton Place as hugely desirable addresses. The building was mocked in the famous and popular 1936 movie, "Dead End," which starred Humphrey Bogart. The movie focused on the not-always-communal coexistence of the rich in their spectacular tower of luxury and the poor swimming in the adjacent river off the dead end street.
4. Manhattan House at 200 East 66th Street
One of the most influential post-war buildings in New York City, Manhattan House marked the beginning of the age of "white-brick monstrosities" in the eyes of some observers and the first big splash of International Style modernity in the city to others. The mammoth development, which occupies the full block between Third and Second Avenues and 65th and 66th Streets, actually is clad in a light gray-brick, but niceties aside it presented a "clean," "neat," almost Spartan appearance in distinct contrast to the historical styles of earlier periods and the Art Deco stylizations of the 1920s and 1930s.
5. World Wide Plaza, 393 West 49th Street
This full-block, mixed-use development in 1989 by William Zeckendorf Jr. on the former, second site of Madison Square Garden paved the way for the remarkable renaissance of Times Square and the Theater District and West Midtown. This 38-story residential condominium tower was designed by Frank Williams.
6. Tudor City, Tudor City Place
The Tudor City complex was created by Fred Fillmore French starting in 1925 when he assembled six block fronts along Prospect Place, a small north-south street west of First Avenue that was lined mostly with brownstones. By 1932 he had completed nine large apartment houses and a hotel, and today the project has 12 buildings that range in height from 10 to 32 stories with about 3,000 apartments and 600 hotel rooms. The Tudor City project made the area "respectable" for the United Nations to build its headquarters across First Avenue after World War II.
7. Liberty Tower at 55 Liberty Street
One of the great skyscrapers of Lower Manhattan, this 33-story, Gothic Revival-style tower was erected in 1910 and designed by Henry Ives Cobb. After World War II, many office tenants were looking for large floors and the older towers fell a bit out of favor. In the 1960s and 1970s, an exodus of commercial tenants from Lower Manhattan to midtown and to the suburbs threatened the viability of many downtown properties. In 1979, architect Joseph Pell Lombardi converted this office building to a cooperative residential building with 87 apartments, the first major such conversion in Lower Manhattan.
8. Zeckendorf Towers at 1 Irving Place
One of the city's most important development projects of the 1980's, this full-block complex not only led to the renaissance of Union Square Park, but also anchored the phenomenal emergence of Park Avenue South and the Flatiron District as a chic neighborhood. The four-towered condominium enclave, which was completed in 1987, replaced many run-down low-rise buildings. The importance of this development is its demonstration of how one major project can turn a neighborhood around. It may well prove to be the most important achievement of the developers: William Zeckendorf Jr., Abraham Hirschfeld, Irwin Ackerman and others. To go forward with such a mammoth project in the heart of an unattractive, crime-ridden, heavily trafficked area in a no-man's land between the established residential communities of Greenwich Village to the south and Gramercy Park to the north was a major act of courage.
9. London Terrace, 405 - 465 West 23rd Street
This gargantuan, 1,670-unit, full-block apartment project was completed in1930. Rather than have 14 different designs for the individual buildings, this complex presents a very handsome, unified design, a process followed soon thereafter at Knickerbocker Village near the Brooklyn Bridge in Lower Manhattan. Over the decades, London Terrace remained a mighty bulwark in Chelsea, and remains as such as Chelsea has become one of the city's "hottest" neighborhoods.
10. Time Warner Center at 80 Columbus Circle
This huge, mixed-use, twin-towered, reflective-glass-clad project replaced the former New York Coliseum on Columbus Circle and includes retail space, offices, hotel, TV studios, a jazz facility, and 225 condominium apartments. It was designed by David Childs of Skidmore, Owings & Merrill and completed in 2004. The Related Companies, Apollo Real Estate Advisors and the Palladium Company took on the project after protests by numerous civic groups over the previous developer's plan that would have cast huge shadows on Central Park. The razzle-dazzle of this project made this already popular area the city's most desirable.
About Carter B. Horsley
Mr. Horsley, editor of CityRealty, writes "Carter's View on Manhattan Real Estate" and his popular "CityRealty's Top 10 Buildings" lists. Prior to joining the online real estate and apartment search site, he spent 26 years writing for The New York Times as a real estate and architecture news reporter. In addition, he produced the syndicated radio program, "The Front Page of Tomorrow's New York Times," which was a WQXR standard. He later served as real estate editor and architectural critic for The New York Post and International Herald Tribune.
About CityRealty
CityRealty.com is a New York City apartment search and real estate site established in 1994. CityRealty streamlines the apartment search process by matching buyers and renters with qualified real estate agents who are screened for market knowledge, expertise, professionalism and client compatibility. Additional information about CityRealty is available at http://www.cityrealty.com or by calling (212) 755-5544.
# # #