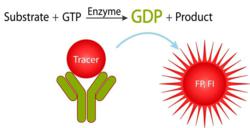 Madison, WI (PRWEB) January 19, 2012
BellBrook Labs announced today that they have been awarded a patent for a novel GTPase assay method, the fifth U.S. patent for their innovative line of Transcreener® HTS Assay products (U.S. 8,088,897). This latest extension of the Transcreener platform, called the Transcreener GDP Assay, will allow drug discovery scientists to screen for new chemicals targeting GTPases, a large family of enzymes with links to cancer and many other diseases that has remained relatively unexplored due to a lack of suitable HTS assay methods.
The technology underlying the Transcreener GDP assay was developed for detection of GTPases, a large family of enzymes that play diverse roles in normal and disease-related cell processes. It includes small GTPases in the Ras superfamily as well as the Galpha proteins that relay signals from G-protein coupled receptors. Though many GTPases are known to be intimately involved in disease pathways, they have yet to be exploited therapeutically, partially because they are difficult to incorporate into the high throughput screening assays used to identify lead drug molecules.
The Transcreener GDP assay overcomes a longstanding problem in GTPase assays because it relies on direct detection of GDP rather than phosphate. Phosphate is a component of many biomolecules and commonly used reagents, and its ubiquitous presence in biological samples causes high background and false positives in the current GTPase enzyme assays. BellBrook's assay detects GDP - a much more specific product of GTPase enzymes - eliminating the background problems associated with phosphate detection. The company has used the technology to develop two Transcreener GDP Assays, one with a fluorescence intensity readout and another with a fluorescence polarization readout. In addition to simplifying GTPase screening, BellBrook scientists and others have leveraged the assay to target proteins that modulate GTPase activity such as RGS proteins and ARF-GAPs.
Transcreener is a universal, high throughput biochemical assay platform based on detection of nucleotides, which are formed by thousands of cellular enzymes, many of which catalyze the covalent regulatory reactions that are central to cell signaling and represent new opportunities for therapeutic intervention. It relies on highly specific antibodies that detect nucleotides coupled with homogenous fluorescent detection formats suitable for automated HTS applications. A single Transcreener assay can be used with any enzyme that produces a given nucleotide, allowing detection of hundreds of different drug targets. It is the only enzyme assay method that allows direct detection of nucleotide enzyme products without the use of additional coupling or reporter enzymes, which are a common source of interference by chemical library compounds. BellBrook currently holds five issued patents on the Transcreener technology and the company is pursuing additional patent applications. In addition to BellBrook's own Transcreener line, a number of other companies in the Life Science sector including Invitrogen, CisBio and Evotec have licensed the Transcreener technology for their own HTS assay products and/or screening services.
In combination with existing Transcreener® assays for ADP, AMP/GMP and UDP, the newly patented technology will accelerate the discovery of improved drugs targeting diverse enzymes in disease pathways for cancer, inflammation, metabolic diseases and neurodegeneration.
About BellBrook Labs. BellBrook Labs, LLC develops detection reagents and microfluidic devices that accelerate the discovery of more effective therapies for cancer and other debilitating diseases. Transcreener® is a patented high throughput screening assay platform that was introduced in 2005 and is used to identify inhibitors for kinases and other types of protein drug targets. The iuvo™ Microconduit Array technology and assay screening service is a line of unique microscale devices for miniaturization and automation of advanced cell models that are more representative of human physiology. Visit BellBrook's website for more information: http://www.bellbrooklabs.com.
###