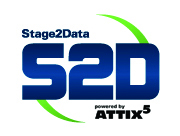 Attix5 is one of the UK's most trusted and reliable, cloud based back-up and recovery systems. And now, Stage2Data is committed to making it a game changer in the North American education market too.
Oakville, Ontario (PRWEB) January 19, 2012
This week Stage2Data, the exclusive Distributor for Attix5 in North America, announced that it is aggressively positioning Attix5 as the premier backup and recovery disk based solution for the North American education market.
The news follows confirmation in the UK of a significant deal between Attix5 and the London Grid for Learning (LGfL). The deal gives 65% of the UK schools access to Attix5 which is one of the UK's most trusted and reliable, automated information back-up and restoration systems. This new partnership equates to a total of 3000+ schools and 65,000+ people whose sensitive data could now be protected by Attix5 products.
According to Jeff Collier, President of Stage2Data, "Attix5 dominates the UK education market and will soon dominate the North American education market because it is ideal for schools - Attix5 is easy to use, requires minimum administrative intervention, has security encryption built in as standard and, it also saves on internal resources and storage."
The private sector as a whole is under great pressure to ensure the data they hold is stored securely. Schools are not exempt from this and Stage2Data and Attix5 point to several examples of data breaches within schools in the last year.
Talking about the importance of protecting school data Mike Law, Chief Executive at Attix5 said:
"We are able to provide some of London's most vulnerable citizens (children) with the most up-to-date, comprehensive data protection. Schools up and down the country are really starting to take data security seriously and I hope the rest of the public sector will follow suit."
Echoing that message in North America is Jacques Swanepoel, the Stage2Data Chief Technical Officer who suggests that "Our education institutions are beginning to realize the weaknesses in their systems. With Attix5 in our suite of solutions we are able to deliver the best backup and recovery solution, superior student data security and substantial savings."
Stage2Data comes to the education market with an impressive track record. The company has experience working with Mohawk College, Niagara College, St. Clair Catholic District School Board, Hamilton-Wentworth District School Board as well as many others.
Company Stage2Data
Stage2Data is a privately held company founded by Jeff Collier and Jacques Swanepoel in 2009. The company is dedicated to working with Enterprise and SMB's to safeguard their data against disaster or loss using cloud based, disk to disk technology. Stage2Data is the Master Distributor for Attix5 in North America and is a recognized leader in backup and recovery. Stage2Data is headquartered in Oakville, Ontario with offices in the USA. For additional information about the company, please visit http://www.stage2data.com.
About Attix5
Attix5 is an international provider of secure data management, storage and restoration, specializing in virtualization and cloud based solutions. Its world-class data protection software uses FIPS-compliant Advanced Encryption Standard (AES) encryption for security and provides absolute peace of mind to listed Enterprises and SMEs across the world. Attix5 services the key global industry sectors, including Financial Services, Education and Retail. Attix5 is the SIMS partner for Capita Children's Services in the UK and provides secure data back-up for 65% of UK Primary Schools, Founded in 1999, Attix5 is headquartered in the UK with offices in South Africa.
Founded in 1999, Attix5 is headquartered in the UK with offices in South Africa.
About London Grid for Learning
The London Grid for Learning is a Consortium of all London LAs working together to put in place online resources and services for schools which exceed (in terms of quality, scope and value for money) what can be achieved by working individually. The LGfL Trust was established in June 2000 by the 33 London LAs to provide extensive and cost effective ICT services, particularly broadband and e-learning tools.
# # #