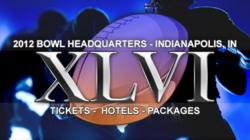 "Finding high-end downtown properties has been a huge headache for us this year," says VIPSuperBowlTickets.com's Nick Giammusso
Buffalo, NY (PRWEB) January 23, 2012
How can one predict what Super Bowl prices will do this year?
There's no denying that Indianapolis as a Super Bowl host city will have its drawbacks. After 18 years of business, VIPSuperBowlTickets.com has seen Super Bowls in plenty of locations and any first-time host may have its issues. First, the weather in the mid-west in February is less than an ideal destination when travelers are thinking about investing serious dollars in a mini-vacation. Secondly, the city is not a major metropolitan area with an abundance of high-end hotel properties. This poses a serious problem in providing adequate hotel rooms for such a huge corporate event like the Super Bowl. "Finding high-end downtown properties has been a huge headache for us this year," says VIPSuperBowlTickets.com's Nick Giammusso. "It compares to the Super Bowl in Jacksonville a few years back when the NFL arranged for cruise ships to satisfy the need for rooms. Indy does not have that luxury and hotel prices are through the roof!"
In terms of geographical location, Indianapolis sits in the middle of the country with relatively short air travel times for football fans from both the East and West coasts. This can make for quicker and easier travel from the New York City and Boston metropolitan areas.
Supply and Demand
For those fans lucky enough to win the Super Bowl Lottery they will have to fork over either $1,000 for Club Seats or $800 for any other seat location. That's the face-value price!
The secondary market for Super Bowl tickets is much like the stock market. The question is will Super Bowl prices rise or fall in the days leading up to the big game?
Ticket Brokers are offering Super Bowl tickets in the range of $2,500- $10,000 per ticket. Super Bowl ticket prices and packages are trending up approximately 20-40% in comparison to last year's game when two small market teams Pittsburgh and Green Bay played in Super Bowl XLV and Dallas offered an abundance of accommodations.
Super Bowl ticket prices and packages will be hotter than normal this year. We are left with two huge cities going to the Super Bowl. Fans of the New York Giants and New England Patriots represent a rich heritage of football fans in big markets with deep pockets certainly spiking demand of Super Bowl tickets and hotel rooms.
The Super Bowl game will be played at Lucas Oil Stadium which will have a seating capacity that will be about 70,000 for this mega event. In comparison, last year's Super Bowl, which was held at Cowboys Stadium in Dallas, had seating for 105,000. Using simple math, one can see that supply of Super Bowl tickets will be approximately 35,000 (or 33% percent) less than last year's availability. Tickets will go fast.
One such variable that cannot be ignored is the state of the US economy. As weakness in the housing market and weakness in the Dollar pushes the US economy further into recession will Super Bowl ticket buyers balk at ticket prices that are now starting at $2,500 per ticket and complete travel packages that run $3,995 per person and up?
For this answer we can look at last year's Super Bowl business...
"Last year, there was a huge demand for Super Bowl tickets and packages," says VIPSuperBowlTickets.com President Nick Giammusso. "Cowboys Stadium was aiming for a near-record capacity of over 105,000, but the NFL and Jerry Jones got greedy as many temporary seats were not ready in time for the big game. The league was left with a black eye as certain folks didn't get in." Indianapolis may be smaller than Dallas and Lucas Oil Stadium seats 33% fewer fans than Cowboys Stadium (approx. 70,000), but this year's Super Bowl is already receiving tremendous interest."
Those interested fans are encouraged to start their Super Bowl planning as soon as they can. With limited hotel accommodations and seats going fast, potential travelers need to act fast. "The Super Bowl is one of those events every football fan needs to check off their bucket list" adds Giammusso. "Everyone needs to check it out!"
###