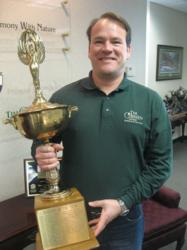 Milwaukee, WI (PRWEB) January 18, 2012
Members of the Metropolitan Builders Association of Greater Milwaukee (MBA), the largest homebuilders association in Wisconsin, have voted Waukesha homebuilder Tim O'Brien their 2011 Builder of the Year. Recipients of this award are recognized in the building industry for exhibiting excellence in craftsmanship, ability to navigate challenging economic times, high ethical standards and strong personal character. O'Brien is also recognized for his service to the community and the Association. MBA's Builder of the Year has been awarded to one outstanding builder each year since 1953.
"It is my ambition to make a positive impact for the homebuilding industry by continually improving our homebuilding process and to deliver our clients a wonderful homebuilding experience that reduces the level of stress in building a home," said Tim O'Brien, founder of the Southeast Wisconsin homebuilder. "It is this innovative approach to continually advancing our homebuilding process that defines the culture of Tim O'Brien Homes."
O'Brien says that when he started Tim O'Brien Homes in 2007, he wanted to improve the homebuilding experience in terms of both the construction of the home and the building process. Having worked in the industry for 14 years prior, he did not want to be another builder focused on the lowest-dollar-per-square-foot price to sell homes.
"Our approach is more value-driven," said O'Brien. "We have done an exceptional job at balancing quality and price to ensure a solid long-term investment and relationship with our clients. We continuously develop our plans and specifications to reinforce that value."
Tim O'Brien Homes is also dedicated to incorporating and continually improving upon green building practices that increase the affordability of durable green home. O'Brien's team continues to receive high-level training in new home technologies, like the principle of building science that approaches building a home as a system, rather than individual pieces and parts.
O'Brien's homes increasingly reflect advancements in renewable energy technologies, such as solar photovoltaic (electric), solar thermal (hot water), geothermal, and new insulation and air-sealing techniques, which also improve indoor air quality in the home.
"We will relentlessly continue to communicate and educate consumers on the tangible benefits of building a new green home and continue to make an impact not only in homebuilding, but in your home life as well," said O'Brien.
Headquartered in Waukesha, the MBA is a not-for-profit trade association that represents over a thousand companies involved in the construction, development, and remodeling of single family homes, multitenant dwellings, and light commercial property in Wisconsin's Waukesha, Washington, Ozaukee, Jefferson, and Milwaukee counties. The MBA also offers resources to prospective home buyers who are looking to purchase new homes in Wisconsin.
For more information about the MBA Builder of the Year, or for information or model locations foron any services offered by Tim O'Brien Homes, call them at (262) 542-5750 or visit them on the web at timobrienhomes.com.
About Tim O'Brien Homes
Tim O'Brien Homes is a semi-custom, single-family home builder committed to energy efficiency, innovative designs, green building practices, and renewable technologies. Every home meets the Focus on Energy® and NAHB Green Building ProgramGreen Built Homes which are third party tested, ensuring a solid investment and low cost of home ownership. With over 17 years of home building experience in southeastern Wisconsin, their team of industry professionals have provided over 900 new homes to satisfied customers. A Tim O'Brien high-performance home can be built on a homebuyer's pre-owned lot or in one of Tim O'Brien Homes' neighborhoods.
Tim O'Brien Home's durable, energy-efficient homes save money on monthly utility bills and require lower maintenance costs. Coupled with award-winning designs, Tim O'Brien homes are a sound personal investment and benefit future generations.
Tim O'Brien, president of Tim O'Brien Homes, is a past-president of the Metropolitan Builders Association (MBA), active member of the National Association of Home Builders, and is the proud builder of the Wisconsin Trend Home (http://www.WITrendHome.com), a joint project with the Wisconsin Builders Association Foundation and the Energy Producing Home (http://www.EnergyProducingHome.com) featured in the 2009 MBA Parade of Homes
###