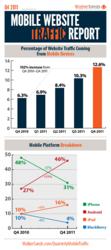 Chicago, IL (PRWEB) January 18, 2012
Walker Sands Communications, a full-service marketing and public relations firm, announced today the results of its Q4 Mobile Traffic Report that conveys website trends across a number of B2B and B2C web clients. According to the latest report, the average amount of web traffic from mobile devices has more than doubled in 2011 compared to the same time last year. At the end of Q4 2011, mobile traffic accounted for nearly 13% of total web traffic for companies, up from 6% in Q4 2010.
"When we began this study in Q3 2010, traffic originating from mobile devices accounted for a relatively modest portion (4%) of total web traffic," said John Fairley, Director of Digital Services at Walker Sands. "More than a year later, we have seen a significant uptick in mobile browsing, which has increased more than three-fold. We can only expect this trend to continue as more consumers become smartphone users who browse on-the-go. Companies that have an online presence but haven't developed a solid mobile strategy yet need to start taking the mobile platform seriously."
Mobile Browsing by Device
The study also examined web traffic by device and found the majority (46%) of mobile visitors are Android users, up from 27% in Q4 2010. Since its inception, Android's share of the mobile market has risen steadily. In fact, in 2011 Android users surpassed iPhone users in terms of mobile browsing frequency.
The Walker Sands' Mobile Traffic Report segmented total mobile traffic by device:

iPhone: 31% of total mobile traffic, down from 48% in Q4 2010
Android: 46% of total mobile traffic, up from 27% in Q4 2010
BlackBerry: 4%, down from 10% in Q4 2010
iPad: 16%, up from 10% in Q4 2010
"Android's expansive portfolio of mobile products makes it more accessible to a broad base of consumers than Apple's iPhone, which is why we see tremendous growth in the Android marketshare at the expense of Apple's iPhone," said Daniel Laloggia, Digital Marketing Manager at Walker Sands. "The Android operating system runs on devices at virtually every price point, both on par with the iPhone and more cost-effective mobile options starting at $99. The wide variety of Android devices also gives consumers more flexibility in terms of design, aesthetics and features. On the other hand, if a consumer does not like the way an iPhone looks or feels, there is no alternate product available in-brand."
While mobile web traffic originating from iPhones dropped 17% from Q4 2010, growth in tablet browsing from the iPad allowed Apple's iOS mobile platform (iPhone & iPad) to remain the largest source of total traffic from mobile -- maintaining a modest 1% lead over Android. With Android expected to capture more of the global smartphone market in 2012, mobile traffic from Android devices will also increase, added Laloggia.
The Rise of the Tablet
Although small screen devices still account for the largest portion (81%) of mobile traffic, down from 85% in Q4 2010, tablet browsing has increased. Mobile traffic from iPads reached 16% in Q4, up from 10% in Q4 2010. This trend is expected to continue throughout 2012, with tablet shipments predicted to grow 60% and reaching 95 million units this year, according to a recent report by Digitimes Research.
"We saw a relatively modest increase in mobile traffic from the iPad (6%), which is surprising considering strong iPad sales," said Fairley. "To some degree these findings indicate that despite strong sales, the tablet does not make up as large of a portion of mobile traffic as initially anticipated. In the near future, however, we can expect tablet traffic to account for a larger portion of total web traffic, especially with the introduction of more affordable tablets like the Kindle Fire."
In fact, early predictions and Q4 2011 holiday sales reports indicate growth in tablet adoption will continue well into 2014. eMarketer predicts that by 2014, one-third of online consumers in America will use a tablet device at least once a month.
"As smartphones and tablets continue to cut into browsing time on desktops, it is increasingly important for companies to develop a solid mobile strategy," said Fairley. "Like smartphones, consumers use tablets differently than desktops. Tablets are becoming a meaningful source of mobile traffic, making tablet-optimized strategies a legitimate consideration for a business with an online presence."
Discovering Your Website's Mobile Traffic
With mobile traffic growing to a significant level, it's important to check your own site and be proactive in the steps toward making your site mobile-friendly. For a step-by-step guide to determine your own mobile traffic visit, http://www.walkersands.com/mobiletraffic.
For more information on the Q4 Mobile Traffic Report, visit http://www.walkersands.com/quarterlymobiletraffic.
Walker Sands Quarterly Mobile Traffic Report
The Walker Sands Quarterly Mobile Traffic Report is compiled on a quarterly basis to determine significant web trends. The report is compiled by examining web analytics data across a wide range of B2B and B2C clients in multiple industries. Insights are shared at the beginning of every quarter for insights derived from the previous quarter. For more information on this study visit, http://www.walkersands.com/quarterlymobiletraffic.
About Walker Sands Communications:
Walker Sands Communications is a full-service marketing and public relations firm focused on generating sales growth for our business to business clients. We provide marketing support for a wide range of clients, everything from large Fortune 500 brands to small startup ventures. Firms have been counting on Walker Sands since 2001 for services ranging from basic marketing strategy to our advanced SEO programs. Visit http://www.walkersands.com for more information.
# # #