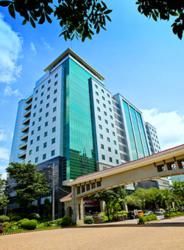 Expanding our company's footprint into these key areas allows us to tap into new large labor pools and enable our clients to spread risk and redundancy into their offshore operations.
(PRWEB) January 18, 2012
Leading offshoring and outsourcing solutions provider MicroSourcing has set another milestone as it opens two new offices in Cebu City and Mall of Asia, Philippines.
The newest offices mark MicroSourcing's fourth and fifth locations in the Philippines and represent the next step in the company's growth and expansion strategy. The recently opened Cebu offices are the first outside of the metro-Manila area and are located in the TGU Tower in Asiatown IT Park, Lahug, Cebu City.
The Mall of Asia offices, conveniently located just 15 minutes from the airport, will open in late January and are in the Two E-Com Center in the Mall of Asia Complex in Pasay City. Boasting waterfront views, the offices will service the Southern and Western Metro Manila areas while MicroSourcing's existing offices in Eastwood City Cyberpark and Bonifacio Global City will continue to service North and East Metro Manila and Central Metro Manila, respectively.
"We're excited to expand our company's footprint into these key areas of the Philippines," said Philip Kooijman, CEO of MicroSourcing. "It will allow us to tap into new large labor pools and also enable our existing and incoming clients to spread risk and build redundancy into their offshore operations. By adding these two new centers we have completed our coverage of Metro Manila and are starting our exploration of cities outside the nation's capital."
Located in one of the fastest developing regions of Metro Manila, the Mall of Asia location has world-class facilities and a huge variety of entertainment options in the immediate vicinity including famous historical landmarks, the SMX Convention Center, the tallest Ferris wheel in the Philippines, and the SM mall of Asia, which is the fourth largest mall in the world. Similarly, Asiatown IT Park covers 60 acres of industrial land at the northern district of Cebu City and has a sophisticated telecommunications system as well as areas for recreation and entertainment.
The new Cebu City and Mall of Asia offices will accommodate approximately 200 and 600 people respectively, focusing all key areas of business for MicroSourcing including ICT and internet, creative services, English language services and back office functions. The Mall of Asia location will focus heavily on ICT and internet services including online marketing, software and web development, web design, social media and creative services for a diverse client base.
In the weeks prior to its official opening, the Manpower Acquisition department launched a recruitment caravan in select locations throughout Cebu to find qualified candidates for various positions, primarily computer-aided drawing technicians. In addition, MicroSourcing will have a full recruitment hub and a brand new recruitment team starting operations for the Mall of Asia location beginning February 1. The company has hired over 300 people to work out of the new offices and continues to hire individuals in the fields of IT, human resources, and finance.
Facebook: http://www.facebook.com/MicroSourcing
Twitter: http://www.twitter.com/MicroSourcing
About MicroSourcing:
MicroSourcing is an offshore outsourcing solutions provider which specializes in setting up, hosting and managing offshore operations in the Philippines on behalf of foreign companies from all over the world. Offshoring through MicroSourcing helps clients reduce their costs, increase their operational flexibility and greatly expand their global reach.
MicroSourcing's service delivery models are tailor-made to service any type of organization, from entrepreneurs and small to medium-sized businesses to large multinational corporations.
MicroSourcing currently has 1850 employees servicing 75 clients from five state-of-the-art delivery centers in the Philippines, which operate 24 hours per day, 365 days per year.
For more information, visit: http://www.MicroSourcing.com.
###