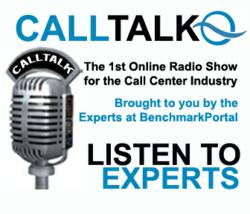 Hear how we turned our center around.

Matt Conant, Director Customer Experience, PLATO Learning
Santa Barbara, CA (PRWEB) January 17, 2012
BenchmarkPortal will air a new online radio show on CallTalk, (http://www.benchmarkportal.com/call-center-newsresources/calltalk-online-radio-show) discussing caller satisfaction, agent satisfaction and 20 Contact Center Best Practice ideas in 20 minutes. BenchmarkPortal gathered senior contact center managers and executives in the contact center industry during the 2011 Call Center Campus event. Listen to this rapid-fire series of best practices from managers of leading centers, such as New York Life AARP and Citizens Energy Group.
The host for this show will be Bruce Belfiore, CEO at BenchmarkPortal. The speakers will be call center managers from around the country.
The online show will provide actionable projects that everyone can implement immediately in their center. Many of the tips focus on turning employees into a team of high achievers. One highlight will be Matt Conant from PLATO Learning, discussing how small changes can and did make a big difference to caller satisfaction. However, sometimes the changes people need to make require some careful listening - "Hear how we turned our center around."
The free online radio show will be held Wednesday, January 18, 2012 at 1 p.m. PT. Click here to listen to live CallTalk broadcasts and CallTalk archives.
About CallTalk
A fun and exciting online program for education and learning, for the customer service industry. Once a month, broadcast directly over the Internet to your desktop, covers informative and educational topics impacting the contact center and customer service today.
About BenchmarkPortal
BenchmarkPortal is the leader in Contact Center Benchmarking, Contact Center Certification, Contact Center Training and Contact Center Consulting. Since its beginnings in 1995 under Dr. Jon Anton of Purdue University, BenchmarkPortal has grown with the customer service industry and now hosts the world's largest call center metrics database. Currently led by Bruce Belfiore, the BenchmarkPortal team of professionals has gained international recognition for its call center expertise and innovative approaches to Best Practices for the customer service industry. Listen to the first online talk show specifically focused on the customer service industry - CallTalk. Bruce Belfiore along with industry experts will dive into current discussions surrounding best practices and ways to improve your center. BenchmarkPortal's Web site can be found at http://www.benchmarkportal.com
###