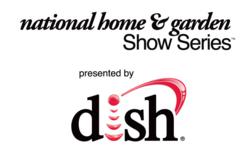 We are pleased to return as the national sponsor of the National Home & Garden Show Series™, allowing us to demonstrate the kind of unmatched products and services DISH can offer.

Stephanie Pence, VP of Marketing for DISH
Cleveland & Englewood, Colo. (PRWEB) January 18, 2012
Premier HomeShows, the portfolio of leading independent home and garden shows and a division of USA Expositions, L.L.C., announced today that DISH has signed on as a national presenting sponsor of its 2012 National Home & Garden Show Series™. DISH Network, the TV industry's leader in technology and HD programming, along with several local independent satellite TV retailers exhibiting at each show, will increase its visibility on a national and local level through its participation in all 28 home and garden shows nationwide.
The National Home & Garden Show Series™ features the highest quality collection of independently produced home and garden shows across the U.S., attracting 1.5 million attendees annually. Typically, more than half of these consumers make a purchase decision at a show.
"We are pleased to return as the national sponsor of the National Home & Garden Show Series™, which allows us to clearly demonstrate to consumers the kind of unmatched products and services DISH can offer, including our Blockbuster movie service, which is the most comprehensive TV entertainment programming package ever delivered by a multichannel pay TV provider," said Stephanie Pence, VP of Marketing for DISH Network. "Homeowners and potential home buyers are not only looking for a high-quality, in-home TV experience at the best value but also the most movies with the most ways to watch TV – and DISH can deliver both."
The Blockbuster movie service includes the following:

Mail It! – More than 100,000 DVD movies, TV shows and games available by mail.
Stream it! – Stream more than 3,000 movies to your TV. Stream more than 4,000 movies to your PC. Watch hundreds of on-demand TV shows.
Play it! – More than 3,000 video games by mail for XBOX®, XBOX 360®, Playstation2™, Playstation3™, and Nintendo Wii™.
Exchange it! – Unlimited exchanges of DVDs and video games at participating Blockbuster stores.
Watch it! – More than 20 premium entertainment channels from studios like MGM, Epix, Sony Movie Channel, PixL and more.
"We are excited to have DISH return to Premier Home Shows in 2012. They continue to provide our shows' attendees with industry leading technology at a great value," said Adam Roggenburk, vice president for Premier Home Shows. "This is exactly what our platform is about – providing a valuable experience for our attendees."
About Premier HomeShows
Premier HomeShows, a division of Cleveland-based USA Expositions, is the leading collection of independently produced home and garden shows in the country with deeply integrated channels that engage a consumer throughout the year. In 2010, 1.5 million highly qualified consumers attended a Premier HomeShow event, more than half of which made a purchase decision at the show. Current and past sponsors and partners include leading brands such as GMC, American Family Insurance, Home Depot and Better Homes & Gardens. Visit http://www.premierhomeshows.com for more information.
About DISH Network
DISH Network Corporation (Nasdaq: DISH), through its subsidiary DISH Network L.L.C., provides more than 13.945 million satellite TV customers, as of Sept. 30, 2011, with the highest quality programming and technology at the best value, including HD Free for Life. Subscribers enjoy the largest high definition line-up with more than 200 national HD channels, the most international channels, and award-winning HD and DVR technology. DISH Network Corporation is a Fortune 200 company. Visit http://www.dish.com.
# # #