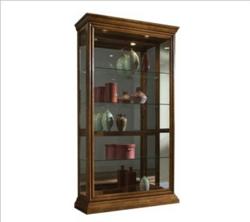 We work tirelessly with leading manufacturers to offer the public the very best curio cabinets at low, low prices. This Super Bowl Sale makes those savings even better
Golden, CO (PRWEB) January 18, 2012
With "Super Bowl Sunday" becoming the new national past-time, many people are scrambling to plan huge Super Bowl parties with family, friends and fellow football fans. What better place to display rare sports memorabilia, framed Super Bowl tickets or other prized collectibles? Curio Cabinet Spot has heard from many of its customers and decided to hold an unprecedented Super Bowl Sale on many of its fine glass curio cabinets and other products. Customers can take advantage of an extra 5% off the price of new corner curios by many leading manufacturers including Pulaski Furniture, and Philip Reinisch. These savings are on top of already low prices, free shipping and no sales tax in most states.
A well-made curio cabinet is the perfect display case to show off your most prized collectibles. Many modern curio cabinets have dustproofing technology and cam locks to protect your treasures against the ravages of dust and careless fingers. Such cabinets also have bright halogen lights and mirrored backs to showcase items from all angles, and solid hardwood frames that are built to last for many years. "Our stock comes from some of the best manufacturers in the United States and beyond", said Kristen Linden, Web Store Manager for InteriorMark, LLC. Linden also had this to say, "We work tirelessly with leading manufacturers to offer the public the very best curio cabinets at low, low prices. This Super Bowl Sale makes those savings even better".
These Super Bowl savings are slated to end Friday January 27, 2012, so customers need to act fast to take advantage of the savings. Log on to CurioCabinetSpot.com and browse their vast inventory of curio cases, china cabinets and other display furniture. Once ready to check out, customers need only to enter the coupon code CCSSUPER in the appropriate field. Customers can also give the code over the phone to one of Curio Cabinet Spot's friendly Sales Professionals. The code will take 5% off the price of any item except for Parker House, AICO and Howard Miller products. These products have discounts of their own and are not part of this promotion.
Super Bowl XLVI will take place at the Lucas Oil Stadium in Indianapolis, Indiana on February 5, 2012. If customers act now, many of the products in this promotion can be delivered in time for the big game. What better way for people to unveil their sports memorabilia, autographed items or other items than at a Super Bowl party with family, friends and fellow football fans?
About Curio Cabinet Spot – CurioCabinetSpot.com is a division of InteriorMark, LLC, who is the market leading retailer of home theater furniture products, entertainment furniture, massage chairs, sofas and sectional sets and bedroom furniture. The company offers a wide range of products and services designed to enhance and decorate a living room space, bedroom or dedicated home theater environment. InteriorMark is a member of the National Home Furnishing Association and is a member of the Better Business Bureau.
###