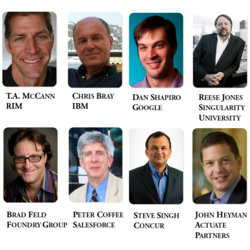 …a lot of information in a short time…trends, valuations, predictions…what you need to know to ensure success in 2012
(PRWEB) January 17, 2012
Corum Group, the international leader in software and technology merger and acquisitions, is proud to announce two special rebroadcasts of "Forecast 2012 > Global Tech M&A -- Review and Predictions" annual webcast on Thursday, January 19, 2012 – one at 8:30 AM London Time and another at 11:00 AM New York Time.
"Last week's 'Forecast 2012 – Tech M&A Review and Predictions' was the largest such event in history," explained Bruce Milne, Corum Group founder and CEO. "Tech CEO's, investors, analysts, and industry leaders tuned in from 37 countries to hear special expert reports on the Cloud, Social, Mobile, Games, and SaaS, plus 26 market sector valuation analysis. In addition, there was commentary and predictions from the most elite panel of industry luminaries ever assembled for such a topic – IBM, Google, Salesforce, Rim, Concur and others. Press and attendees alike have praised it." Milne continued: "In fact, it's the best panel I've ever seen for an event like this."
The "Forecast 2012" luminary panel included:

Dan Shapiro, Google -- on Social Domination
Chris Bray, IBM -- on the Year Ahead
T.A. McCann, RIM -- on the Revolution in Mobile
Peter Coffee, Salesforce -- on Cloud Strategies
Steve Singh, CEO, Concur -- on SaaS in 2012
Reese Jones -- the Berkeley Lab Sage -- special live report from CES
John Heyman, Actuate Partners -- on "Selling for a Billion"
Brad Feld, Foundry Group -- on 2012 VC strategies
"Forecast 2012" also featured the Corum Index, a discussion on current trends and business valuations in the tech M&A sector, with information broken down into 6 market sectors and 26 separate sub-sectors. This allows executives from every field to see specifically where their company is trending with up-to-the-moment statistics. Corum measures recent M&A activity against long-term trends to offer insight on what to expect in the coming year.
Corum's annual report "Forecast 2012 > Global Tech M&A -- Review and Predictions" will be rebroadcast twice on Thursday, January 19, 2012, at 8:30 AM (London Time) and again at 11:00 AM (NY Time). Registration is free of charge, but space is limited. To register, visit http://www.corumgroup.com/webinar-rebroadcasts.aspx?117
"Forecast 2012" is being produced by Corum Group of Seattle, Washington, with co-sponsorship support from the following technology associations:
Washington Technology Industry Association (WTIA)
Ottawa Centre for Regional Innovation (OCRI)
Northeast Ohio Software Association (NEOSA)
Louisiana Technology Council (LTC-LA)
TECH South East (Canada)
Illinois Technology Association (ITA)
San Diego Software Industries Council (SDSIC)
Communitech (Waterloo, Ontario)
Illinois Technology Association (ITA)
Colorado Technology Association (CTA)
About Corum Group
With headquarters in Seattle and Zurich, Corum Group has completed more Tech M&A transactions than anyone other M&A firm globally. As a software M&A leader, Corum also sponsors more than 100 educational events for tech executives every year, and has hosted seminars on building value and tech M&A in 32 countries. Corum Group's monthly Tech M&A webinar features up-to-date content and statistics on the M&A market. Webinars feature guest speakers, including acquisition executives from companies like Google, Microsoft, and HP, private equity investors, and executives from recently acquired companies.
###