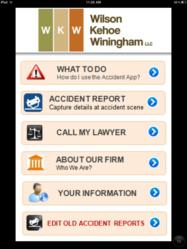 Indianapolis, IN (PRWEB) January 18, 2012
In 2009, there were more than 5.5 million car accidents in the United States. Do you or your kids know what to do after an accident?
Recently, we released our very own crash help auto accident mobile application for iPhone and Android phones. This app is the simplest way to record details at the scene of an accident. The app gives the user clear instructions on what needs to be done before and after an accident.
Some of the great features include:

Call emergency 911.
Contact and email information to our firm.
Camera, voice recorder, text notepad and drawing pad provide all the user needs to record all of the pertinent data about any moving vehicle accident.
Time saving forms to clearly collect accident information from other parties (drivers, witnesses, passengers, etc.).
Automatic GPS locator which aides in recording critical accident facts like traffic patterns and driving conditions.
We hope you never need this app, but if you do you'll have peace of mind knowing you collected and stored all of the auto accident information in one convenient location.
If you have an iPhone or Android powered smartphone, download the app today. Below are links to download the app.
iPhone App Link:
http://itunes.apple.com/us/app/wkw-auto-accident-app/id487774914?mt=8
Android App Link:
https://market.android.com/details?id=com.WKWLAW
###