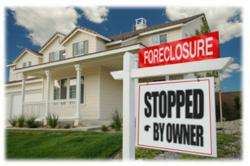 "The most important fact for financially distressed homeowners to keep in mind: the sooner help is sought, the better," LoPiccolo emphasized.
St. Louis, MO (PRWEB) January 18, 2012
Joe LoPiccolo, Broker/Owner of American Realty Group, a real estate brokerage based out of St. Louis County, today announced the availability of a new, free educational report for St. Louis area homeowners which will help local residents understand that there are feasible alternatives to foreclosure. The report, which was launched on January 17th, 2012, on their short sale information website, will teach homeowners to become more knowledgeable about the various methods to salvage their financial future if facing foreclosure.
"Millions and millions of homeowners in the United States spent 2011 under a cloud of uncertainty caused by missed payments on an unmanageable mortgage," said Joe LoPiccolo of American Realty Group.
Since 2007, 8.9 million homes have been lost to foreclosure. "My mission is to keep you and anyone you care about from adding to that statistic," LoPiccolo stated. He added, "The fact is, there are options to foreclosure—better options now than ever before."
LoPiccolo's message to financially strapped homeowners in the St. Louis market: "the expertise and resources to ensure that 2012 gets off to a far more positive start is close at hand."
The report talks about the many benefits of a short sale, which occurs when the amount owed on his/her property is higher than current market value. A short sale occurs when a negotiation is entered into with the homeowner's mortgage company (or companies) to accept less than the full balance of the loan at closing. A buyer closes on the property, and the property is then 'sold short' of the total value of the mortgage.This seems simple enough, but it is a complicated process that takes the expertise of experienced professionals.
A Certified Distressed Property Expert (CDPE), LoPiccolo is knowledgeable foreclosure avoidance alternatives and is adept at negotiating with major banks and helping financially strapped homeowners to regain peace of mind and a sense of stability for the future. Through comprehensive training and experience, CDPE-designated agents are able to provide solutions for homeowners facing financial hardship in today's market.
LoPiccolo's free report entitled, "Tipping the Scales Toward Foreclosure: Resolve to Shed the Weight of an Unmanageable Mortgage in 2012," is accessible, at no cost, from his website, St. Louis Short Sale Experts
"As the report points out," Joe says, "the recovery of U.S. housing market hinges on huge reductions to the current glut of foreclosed homes, and as such, all major players have taken foreclosure-prevention efforts up several notches."
About American Realty Group
American Realty Group is a full service residential real estate company representing both buyers and sellers in the St. Louis area with a specialization in the short sale process.
###