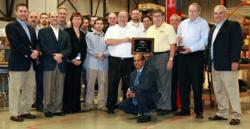 PWPS relies on companies like ours (HESCO ) to deliver high-level performance through operational excellence and consistency.
Rocky Hill, CT (PRWEB) January 19, 2012
Through Pratt & Whitney Power Systems (PWPS), Connecticut-based HESCO has been awarded UTC Supplier Gold, the highest possible supplier rating from UTC. UTC Supplier Gold is a program established to drive and recognize superior supplier performance. Pratt & Whitney is a United Technologies Corp. company.
According to Todd DePasquale, General Manager at HESCO, attaining Supplier Gold was a challenging yet highly rewarding achievement for HESCO:
"PWPS relies on companies like ours to deliver high-level performance through operational excellence and consistency. Our performance contributes to Pratt & Whitney Power Systems' competitive advantage in the global marketplace, and that is what motivates our company. We are helping a CT manufacturer succeed. Achieving Supplier Gold means that we are a company that focuses on increasing efficiencies, reducing waste, and improving quality while lowering costs. Whether we're building custom control and power cabling for the FT8 SWIFTPAC and MOBILEPAC gas turbine, or building custom remote I/O enclosures, the same quality and pride goes into every product. Pratt & Whitney Power Systems ensures that suppliers achieving Supplier Gold produce world-class quality in their products and processes. It's a win-win for both companies."
Pratt & Whitney Power Systems was also pleased that HESCO attained Supplier Gold status:
"With full engagement from its team, HESCO continues to use lean tools such as value stream mapping, standard work, mistake proofing and 6S to enable success and to sustain a high level of performance," said Bala Balakrishna, Supply Chain Manager, Pratt & Whitney Power Systems. "We're proud that HESCO has performed at such a high level, and the entire HESCO team is certainly deserving of achieving Gold-level status."
For point of reference, out of some 14,500 UTC global suppliers, only 118 have achieved the UTC Supplier Gold distinction. HESCO achieved UTC Supplier Gold by performing at the highest possible level for the past twelve months. Two examples of this are 100 percent delivery performance to customer requirements, and exceptional quality performance with zero shipped defects.
About HESCO
Through its Applied Services Group (ASG), HESCO manufactures custom cable assemblies, custom panels and enclosures, serving Industrial MRO/OEM, Energy, Food & Beverage, Aerospace, Transportation, Water/Wastewater and other industries. HESCO is also widely recognized as an automation solutions provider and electrical supplies distributor to its many industrial customers. For more information, please visit http://www.hesconet.com.
About Pratt & Whitney Power Systems
PWPS is an industry leader in providing solutions to the power generation market through its industrial gas turbines and aftermarket services. Its gas turbines serve as mobile, easily-assembled and highly-efficient power generation systems. These systems can deliver as much as 60 MW of safe electric power. PWPS has installed more than 2,000 industrial gas turbines in more than 50 countries worldwide.
About Pratt & Whitney
Pratt & Whitney is a world leader in the design, manufacture and service of aircraft engines, space propulsion systems and industrial gas turbines. United Technologies, based in Hartford, Conn., is a diversified company providing high technology products and services to the global aerospace and commercial building industries.
###