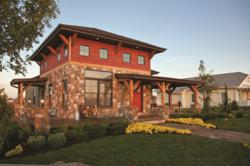 "Each of these seven homes has its own look and feel, but all seven designs were made possible by one manufacturer, Ply Gem," said Diane Korman, Senior Producer, "Extreme Makeover: Home Edition."
Cary, NC (PRWEB) January 17, 2012
Seven homes were built in seven days when ABC's Emmy-award winning reality TV show "Extreme Makeover: Home Edition" headed to Joplin, Missouri to help rebuild the tornado stricken town in the largest project in the show's history. Ply Gem, a leading manufacturer of exterior building products for the residential construction market, supplied complete exteriors for each of the seven homes through application of The Designed Exterior by Ply Gem. The Joplin episode aired on Friday, January 13 on ABC, marking the show's 200th episode and its series finale. "Extreme Makeover: Home Edition" will continue on ABC with specials after this season.
The seven homes are for seven families who were affected by the tornado that tore through Joplin in May 2011, killing approximately 160 people and destroying nearly 8,000 homes. Some of the Joplin families lost friends, some lost children, and all lost their homes.
The "EM:HE" design team, including Ty Pennington, Paige Hemmis, Paul DiMeo, Tracy Hutson and Michael Moloney, plus a volunteer "army" of 13,000 people, joined in to build seven unique homes in just seven days. In addition, the show refurbished a local park, created a new playground and a poignant memorial site to those volunteers who came to the aid of others during and after the tornado.
"Each of these seven homes has its own look and feel, but all seven designs were made possible by one manufacturer, Ply Gem," said Diane Korman, Senior Producer, "Extreme Makeover: Home Edition." "Ply Gem not only provided product, but worked with us to design exteriors that are personalized to each family's story. The Designed Exterior by Ply Gem is the perfect fit, allowing the individual character and hope of each of these families to shine through the neighborhood."
The Designed Exterior by Ply Gem, a complete exterior home solution, was applied to the seven home styles – Cabin, Beach, Eco, Chic, Modern, Craftsman and Bohemian. Products include:

Ply Gem Windows – windows and patio doors
Great Lakes Window – ecoSmart windows & patio doors
Ply Gem Canada – Fusion windows & patio doors
Mastic Home Exteriors by Ply Gem – siding, accents
NAPCO by Ply Gem – siding, accents
Variform by Ply Gem – siding, accents
Cellwood by Ply Gem – siding, accents
Durabuilt by Ply Gem – siding, accents
Georgia-Pacific – siding, accents
Ply Gem Stone – stone and brick veneer
Kroy by Ply Gem – fence and rail
Richwood Exterior Finishings by Ply Gem – accessories
"The construction of these homes is one step in rebuilding the lives of families who have suffered incomprehensible loss, but who are also looking toward a new future," said John Stephenson, vice president, marketing, Ply Gem. "This build is one of the most inspirational Designed Exterior by Ply Gem projects to date. We are grateful to have helped the Extreme Makeover: Home Edition team provide low maintenance, energy efficient, worry-free dream homes for deserving families, while inspiring others to visualize what's possible in personalized exterior design."
As the series traveled to all 50 states, the "EM:HE" team designed and re-built over 200 state of the art homes, and didn't stop there, also tackling firehouses, schools, daycares, soup kitchens, Little League fields, free clinics, churches, food and clothing shelters, summer camps, community centers, dormitories, parks, teen centers, homeless shelters, animal shelters, dance studios, therapeutic riding centers and much more. A typical build attracted 3,000-5,000 volunteers, for a total of over one million people sacrificing their time to build for their neighbors.
Although the Joplin project marks the series finale, "Extreme Makeover: Home Edition" will continue on ABC with specials after this season.
For more information on the Joplin families, see below. To see photos from the build, visit http://www.facebook.com/PlyGem.
About Ply Gem
Ply Gem, headquartered in Cary, N.C., is a leading manufacturer of residential exterior building products in North America. Ply Gem produces a comprehensive product line of vinyl siding, designer accents and skirting, vinyl fencing and vinyl and composite railing, stone veneer and vinyl windows and doors used in both new construction and home repair and remodeling in the United States and Western Canada. Ply Gem siding brands include Mastic Home Exteriors®, Variform®, NAPCO®, Ply Gem® Stone, Kroy®, Cellwood®, Georgia Pacific, DuraBuilt®, Richwood®, Leaf Relief®, Gutter Warrior™ and Monticello® Columns. Ply Gem also manufactures vinyl and aluminum soffit and siding accessories, aluminum trim coil, wood windows, aluminum windows, vinyl and aluminum-clad windows and steel and fiberglass doors. Ply Gem windows and patio door brands include Ply Gem® Windows, Mastic® Replacement Windows, Ply Gem® Canada and Great Lakes® Window. The company's brands are sold through short-line and two-step distributors, pro dealer home improvement dealers and big box retailers. Ply Gem employs more than 4,300 people across North America. Visit http://www.plygem.com for more information.
About ABC-TV's "Extreme Makeover: Home Edition"
The Emmy award winning reality program "Extreme Makeover: Home Edition," now concluding its ninth season, is produced by Endemol USA, a division of Endemol Holding. It's executive-produced by Brady Connell and George Verschoor. David Goldberg is Chairman, Endemol North America.
Joplin Family Backgrounders
The Howard Family
Kyle, the father and a Joplin fireman, was at work at the fire station during the storm and spent the first two hours after the tornado not knowing if his wife and kids had made it out alive. He made many stops along the way home, through the rubble, rescuing trapped victims and tending to injured members of the community. Meanwhile Jill and their children, Konnor, Korbin and Kaleb, huddled in a closet. A door landed on top of them, which they used to deflect the debris. This ultimately saved their lives. After the storm, they had no idea if Kyle was alive, but eventually the family, along with older son Keenan, who was out of town at the time, was reunited. Jill sustained minor injuries, but their home was completely destroyed.
The Nevins Family
Kari and Justin Nevins love Joplin and prior to the tornado, their home was known as "the neighborhood's house," where kids could play, have refreshments and hang out. Kari is part of Bright Futures, a, organization whose goal it is to increase graduation rates through teaming with businesses and faith-based partners to provide for the needs of students. The parents, along with their children, Uriah, Avery, Cana and Rhoen, ran to the cellar. As they huddled together, they felt the force of the tornado as it ripped apart their house. After making sure his family was safe, Justin immediately started helping others by searching and digging neighbors out of the destruction. The tornado not only destroyed their home, it also destroyed the entire neighborhood and school Kari worked so hard to help. Without a home, the Nevins were staying in a rental home 17 miles outside Joplin, as they tried to piece back their lives.
The Cogdill Family
Single mom Crystal Cogdill works for the Joplin Housing Authority. She has a passion for helping people find housing, but in a cruel twist, now finds herself homeless. In the tornado, Crystal lost her 9-year-old son, Zach Treadwell. Upon hearing the sirens, she hustled her kids inside the house and, following her emergency plan, huddled with them in the bathtub. As the home came apart around them, she felt her grip on her children weakening. The storm eventually overpowered her and ripped the kids from her arms. When she next saw Zach, his lifeless body was pinned beneath a utility pole. Stunned, Crystal finds her friend (also named Crystal). The two friends soon make a horrifying discovery; both of them have lost children to one of the most devastating weather events this nation has ever endured. Crystal Cogdill lived with friends while beginning the process of starting over.
The Whitely Family
Before the storm, Crystal Whitely was the ultimate single mother taking care of her three kids and working as a personal care aid. Crystal loved working with her clients that were disabled and elderly, but her kids are her life. The night of the storm, the whole family took cover in the bathtub, but moments later, the house was pulled off its foundation. Though she tried desperately to hang on to them, 10-year-old Shante and 6-year-old Trentan were ripped from Crystal's arms. Only Crystal and her 4-year-old daughter, Keana, survived.
The Walters Family
In 2006, Tom and Emily Walters bought a house with dreams of raising their family in the beautiful, small town of Joplin. Emily is a nurse, and Tom a coach and teacher. Together they dedicated their lives to helping and nurturing the happiness and well-being of others. When the siren sounded on May 22nd, the family didn't realize what was coming their way. It started hailing and then, all of a sudden, it got worse. They ran to the bathtub. Huddled together, feeling the roof rip off and objects hurling around, 9-year-old daughter Chloe cried out to her mom and dad, "Don't let me die!" Feeling helpless, all Tom and Emily could do was pray with Chloe and ride out the storm. As soon as it passed, Tom and Emily knew people in the neighborhood would need help. After making sure their daughter was safe with a neighbor, they ran down to a nursing home that had caved in and began digging people out. Along with others, Tom and Emily helped rescue several people. With their home destroyed and unable to be rebuilt, they moved from place to place.
The Nguyen Family
Thang Nguyen (pronounced "win") came to the U.S. in search of the American dream. Thang was in the Vietnamese Air Force and fought alongside the U.S. during the Vietnam War. Afterwards, he was able to move to the U.S. with his family and took a job with General Mills in Joplin. He was on the verge of retirement when the May 22nd tornado took away his dream. That Sunday night, Thang had a craving for seafood. Though his wife, Tiffany, had already prepared dinner, Thang convinced her to go out to eat at a local seafood restaurant. It was lucky for them that she gave in. The tornado missed the restaurant but tore apart their home. Had they stayed in that night, they may not have survived. The Nguyens had been living with Tiffany's daughter, Sara, and their granddaughter, Alex. The Nguyens received help from a local church and were living in an apartment funded by insurance.
The Gonzalez Family
Having both been divorced, Natalie and Scott (who live with Natalie's son, Augie) didn't think they would remarry. But when the tornado took their home, they changed their minds. Before moving to Joplin, Natalie lived in California and once saw a special about earthquakes. She learned that putting a bicycle helmet on your child's head could save his/her life. When the tornado hit, the family huddled in their bathtub, with Scott on top holding on to a mattress and Augie wearing a bicycle helmet. The roof flew off, and suddenly the Gonzalez family was facing the full brunt of the tornado. Scott was picked up off the family and thrown back down in the bathroom. A toilet from the second bathroom flew through the air and hit Augie. The bicycle helmet he was wearing shattered to pieces but saved Augie's life. Natalie was pelted with debris while trying to protect her son, severely hurting her back. While up in the air, Scott watched his family. It was at this moment that he realized, if they all survived, he wanted to marry Natalie and become a legal stepfather to Augie. When the wind started to calm down, Natalie realized they were in the eye of the tornado and their house was gone. Realizing they wouldn't survive the second wave, Natalie and her family rushed over to a drainage ditch to find cover. Watching Scott carrying her son with his good arm (the other suffering a compound fracture), Natalie knew Scott would be her husband. They survived the tornado, broken and without a home, but their family had grown stronger and closer. Scott proposed to Natalie a few weeks later, and now the family would like to start over. After the tornado, they were living in a rental outside of town, but the family loves Joplin and wanted to come back.
# # #