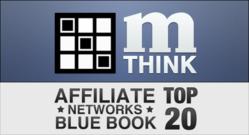 We are thrilled to be named again in the BLUE BOOK Top 20, and honored that affiliates have ranked us as one of the world's best affiliate networks
Victoria, BC (PRWEB) January 18, 2012
RevenueWire is excited to announce it has officially been ranked #10 on the list of the world's Top 20 Cost-Per-Sale Affiliate Networks –– up a full eight spots from 18th overall in 2011 –– according to the most highly regarded ranking guide in the industry, The Online Advertising BLUE BOOK.
"We are thrilled to be named again in the BLUE BOOK Top 20, and honored that affiliates have ranked us as one of the world's best affiliate networks", said Bobbi Leach, CEO at RevenueWire. "Earning 10th place demonstrates our commitment to having a positive impact on our affiliates' business, and reinforces our dedication to providing them with the highest earning and best converting offers possible."
The 2012 rankings are derived from BLUE BOOK'S largest ever survey of affiliates, publishers, advertisers and agencies. The results represent the combined opinions of thousands of individuals with over 100,000 responses analyzed and weighted for enthusiasm, reputation and influence.
RevenueWire's increased recognition among the international community of affiliate marketers can be attributed to the important advances it made in 2011. Over the course of the year RevenueWire continued to develop and deliver the best tools and services for affiliates to grow their business, while significantly expanding its selection of digital offers with high revenue potential.
About The Online Advertising BLUE BOOK
The Online Advertising BLUE BOOK is the authoritative guide to ad networks and exchanges.
In each edition of the BLUE BOOK Guide To Ad Networks, BLUE BOOK brings you the results of their biggest ever survey. Thousands of merchants, affiliates, agencies and network personnel have given us their views on which networks are their favorites.
About RevenueWire
RevenueWire is an end-to-end e-commerce platform designed to grow affiliates' online business by offering key services and tools that optimize every phase of the transaction life-cycle –– from driving traffic via a Digital Product Affiliate Network, converting traffic with a dedicated shopping cart, to capturing sales with email remarketing tools and supporting the post-purchase process with professional customer support.
###