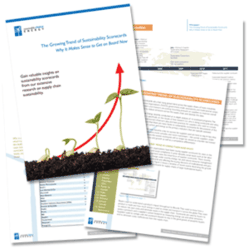 "Whether you are a large multi-national organization or a supplier to one, managing carbon emissions is another lever to reduce waste and drive efficiency." Mark Newton, Vice President of Corporate Social Responsibility at Timberland
Boulder , CO (PRWEB) January 19, 2012
Renewable Choice Energy today announced the release of its extensive research on supply chain sustainability scorecards. The paper includes an in-depth analysis of 16 scorecard programs including those from Walmart, Dell, Ford, Google, IBM, Johnson Controls, the Federal Government and more. The research shows that sustainability scorecards are a fast rising global trend across the supply chains of many industries. Large buyers are setting the pace for scorecards and smaller buyers are eagerly following suit. With new emphasis on measuring supply chain sustainability and risk, scorecards are becoming a key component of corporate social responsibility and proving to be a competitive differentiator.
Mark Newton, former Executive Director of Global Sustainability at Dell and now Vice President of Corporate Social Responsibility at Timberland, explains, "From the highest levels of a corporation, organizations are beginning to think holistically and to engage suppliers to be innovative in their efforts," Newton says. "Whether you are a large multi-national organization or a supplier to one, managing carbon emissions is another lever to reduce waste and drive efficiency."
Many organizations have a stake in supply chain performance:

Government entities include agencies such as the Environmental Protection Agency (EPA) and lawmakers at the local, state or federal level.
Non-governmental organizations (NGOs) operate independently from government and are not-for-profit businesses that usually have a social or environmental mission.
Trade associations are affiliations of businesses within an industry that usually attempt to collaborate and standardize processes and requirements.
Corporate shareholders and investors are commercial influencers who are interested in improving the return on their investment while simultaneously mitigating their risks and look at the supply chain as an opportunity to do that.
"Buyers and sustainability directors at even the largest companies in the world are happy to engage with suppliers on sustainability issues," says Tom Holcomb, Chief Operating Officer of Renewable Choice Energy. "Many suppliers build stronger relationships with their customers simply by asking for help and guidance when responding to scorecard requests."
Key findings include:
Many organizations incorporate the scorecard into their purchasing process and a supplier's performance can count for as much as 10 to 15% of their overall rating.
The top motivators for supplier scorecard implementation include managing risk, industry leadership, and corporate influence.
The most common metrics measured by these companies are energy, carbon, and waste, followed by water, packaging, and social/community.
Sustainability scorecards are an integral part of doing business today. Pressure is coming from many directions – NGOs, trade associations, government, shareholders and investors.
By following a few best practices, suppliers can be sure they understand the sustainability expectations of their customers and succeed in scorecard compliance.
Download the research here.
About Renewable Choice
Founded in 2001, Colorado-based Renewable Choice Energy helps establish clients as leaders in their industry by supporting sustainability initiatives that increase transparency, reduce risk, lower costs, leverage competitive advantage and improve stakeholder relations. Renewable Choice has worked with hundreds of leading Fortune 500 and small companies alike and over 2,000 LEED® green building projects. Their team of experts can help clients meet and exceed a wide range of objectives in the areas of CDP and additional voluntary reporting, supply chain sustainability assessments and scorecard programs, greenhouse gas inventories, carbon accounting, and renewable energy & carbon offsets. Renewable Choice and its clients have received prestigious awards from the EPA and DOE for supporting and expanding the renewable energy market and have been featured in hundreds of media outlets including The New York Times, Wall Street Journal, CNN, USA TODAY, and more. To learn more, visit http://www.renewablechoice.com.
###