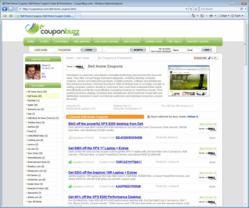 Our hope is that by creating this dedicated Dell coupon webpage, we can better service the needs of online consumers.
Houston, TX (PRWEB) January 18, 2012
CouponBuzz.com is excited to announce the creation of a webpage dedicated completely to Dell coupons for their various products. The webpage will feature the most exciting specials currently being offered by Dell, creating a single location that consumers can visit to see all the best sales and special offers from Dell and their corresponding coupon codes.
Justin Bowen, head of marketing at CouponBuzz.com, explained "We have found that the Dell brand attracts a great deal of internet traffic, usually from shoppers who already know what kind of a computer they want to purchase and are looking for a way to make it more affordable. Our hope is that by creating this dedicated Dell coupon webpage, we can better service the needs of online consumers."
Dell Inc., an American multinational information technology company based in Texas has grown to be one of the largest in the world since its 1984 startup in a college dorm room. Dell sells a variety of technical products like printers, televisions and mobile devices. But it is best known for high-performance, high quality desktops, laptops and netbooks that retail at reasonable, consumer-friendly prices. Dell's intelligent internet marketing approach includes a steady stream of Dell coupons available only online, which makes those prices even friendlier.
CouponBuzz.com understands that one of the greatest challenges a consumer searching for Dell coupons online faces is information overload. It can sometimes be difficult to determine which offers are still current, which offers can work together, and which offers are unusually superb. One of the ways in which the new Dell coupon section works to ensure that the best coupons have the highest visibility is through the work of an individual caretaker for the webpage, known by the engaging title of 'Buzz Guide.'
The launch of the section for Dell coupons at CouponBuzz.com reflects the high-demand for Dell products exhibited by online consumers, especially as reflected by CouponBuzz.com's study of their own site traffic trends. The new webpage can be visited at http://couponbuzz.com/dell-home-coupons.html, and is kept constantly updated by its designated Buzz Guide, currently featuring some of the best Dell coupons available in January.
###