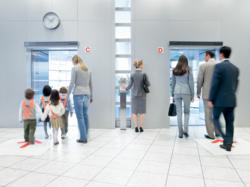 Morristown, NJ (PRWEB) January 18, 2012
Schindler Elevator Corporation, a leading global elevator and escalator manufacturer in the U.S. and Canada, today announced that its Destination Interface elevator modernization technology has been named a Top Product by building and facility executives who recently participated in a national survey, which was conducted by Building Operating Management magazine.
The Building Operating Management Top Products award winners were selected by an e-mail ballot sent to facilities professionals responsible for the management of commercial, government, educational, retail, medical, hospitality and industrial buildings. A total of 557 products that appeared in the magazine or on FacilitiesNet.com between Oct. 1, 2010 and Sept. 30, 2011 were judged. Readers were asked to select their choices for Top Products that met the criteria of innovation and usefulness to facility managers. Based on reader votes, Schindler's Destination Interface elevator modernization technology was selected as a top pick and will be showcased in the January issue of Building Operating Management alongside fellow Top Products winners.
With a Schindler Destination Interface elevator modernization, conventional elevator controls can quickly and easily be converted to destination dispatching. Available on most brands of elevators, this unique, low-cost transformation can be activated without removing cars from service. Owners can immediately enjoy the benefits of destination dispatching, including improved performance, energy savings, access control and VIP service.
"The results of the Top Products survey reveal that commercial facility managers appreciate the opportunity to celebrate the tools and products that help them run their buildings more efficiently and effectively," said Naomi Millan, senior editor for Building Operating Management. "The Top Products Awards program highlights tried-and-true solutions that have been given the official stamp of approval by industry practitioners."
About Building Operating Management
Building Operating Management is the leading magazine for building owners and facility executives in commercial and institutional buildings. Readers are executives who own or manage high-rise office buildings, college campuses, school districts, hospitals, medical clinics, retail chains, hotels and government buildings. Building Operating Management's editorial coverage explores timely topics such as: energy efficiency and strategies, facility technology, executive management, safety and security, facility management, and green buildings. Building Operating Management reaches circulation of 73,000 and has been recognized as a Neal Award finalist for editorial excellence.
http://www.facilitiesnet.com/bom
About Schindler Elevator Corporation
Schindler Elevator Corporation designs, manufactures, installs, services and modernizes a broad range of elevators, escalators and moving walks for almost every building type. The company is the North American operation of the Switzerland-based Schindler Group, a leading global mobility provider with approximately 43,000 employees operating in more than 100 countries. Schindler supports sustainable urban development with safe, reliable and ecologically sound mobility solutions and its equipment moves one billion people every day all over the world. In 2011, Schindler was named one of Forbes Magazine's 100 Most Innovative Companies, and two of the company's products received the 2011Architectural Products' Product Innovation Award. For additional information about Schindler Elevator Corporation, visit the company's Web site at http://www.us.schindler.com.
# # #