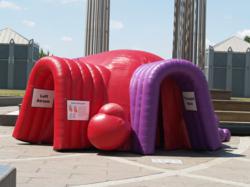 Berkeley Heights, NJ (PRWEB) January 23, 2012
Summit Medical Group, the largest physician-owned multispeciality practice in New Jersey, hosts its 2012 Heart Disease and Stroke Awareness Expo, Wednesday, February 1, 11:30 a.m. to 2:00 p.m. at its 1 Diamond Hill Road campus. This annual free event, sponsored by the American Heart Association, provides education and information on hearth health and stroke prevention. Attendees will find out what they can do to raise awareness of these diseases and protect loved ones.
Education and information available at the Expo includes:
Cardiac Devices
Stroke Prevention
Women's Preventative Health
Sudden Cardiac Arrest in Youth
Hypertension
Cholesterol
Cardiac Rehabilitation
Cognitive Behavioral Therapies
Stress Management
Yoga
Nutrition
Diabetes
American Heart Association
Live from the Cardiac Classroom, Liberty Science Center
Telehealth-Community Management of Heart Disease
Walgreens Pharmacy, Medication Profile Review
Summit Medical Group physicians, nurses and staff from a variety of medical disciplines will be on hand to provide information, screenings and demonstrations on heart disease and stroke prevention.
Demonstrations include:
CPR & Defibrillators
CT Coronary Images
MRI Images
Vascular Screenings
Make your own stress relief ball!
"A Walk in the Heart" sponsored by Community Health of Overlook Medical Center
Screenings include:
Blood Pressure
Calcium Scoring
Echocardiogram
Cardiac Medication Q&A
Carbon Monoxide for Smokers
The event is open to the public. For more information, visit http://www.summitmedicalgroup.com.
ABOUT SUMMIT MEDICAL GROUP
Summit Medical Group (SMG) is the largest privately held multispecialty medical practice in New Jersey. SMG has pioneered information technology advances in health care with its early adoption of electronic health records and e-prescribing. With more than 270 highly qualified healthcare providers, it is one of the most unique health care models in the state. SMG has an award-winning customer service program and NJBiz magazine has named it one of New Jersey's "Fifty Fastest Growing Companies". SMG treats more than 55,000 patients per month at its main campus in Berkeley Heights as well as its satellites in Berkeley Heights, Morristown, Millburn, Short Hills, Springfield, New Providence, Warren, and Westfield. As one of the East Coast's premier multispecialty groups, SMG has provided exceptional primary and specialty care since 1929. For more information, visit http://www.summitmedicalgroup.com.
###