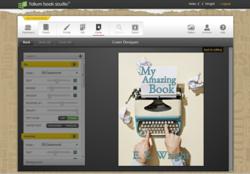 Personal control is the central theme at Folium Book Studio, just as it was in the earliest days of desktop publishing...
Ashland, Oregon (PRWEB) January 19, 2012
Folium Book Studio™ is a radically new DIY manuscript-conversion service which reduces or completely eliminates the need for costly, time-consuming middle agents and specialty designers. Folium Book Studio gives both self-publishing authors and independent publishers the ability to instantly upload manuscripts into an easy-to-use, online service that translates Microsoft® Word® and other documents into complete digital works ready for EPUB distribution.
The high-quality, low-cost service is easy to use and available 24/7 from anywhere on the Internet. Folium Book Studio not only converts manuscripts into the proper file formats, it also conforms the manuscript to professional typographic standards. A variety of tools are included with the service such as Folium Cover Designer™, used to create cover art with photos and illustrations uploaded by the user or from other sources. Once the project is completed, all work can be edited, modified, and freshly exported whenever needed, and the finished version is saved within the service for an entire year at no extra cost. An optional ISBN is included for free, with each paid project.
The Folium Partners team expects to create a strong customer relationship with many of the over 750,000 independent writers who are gravitating towards a self-publishing model. "Personal control is the central theme at Folium Book Studio, just as it was in the earliest days of desktop publishing," said John H. Lee, co-founder and CEO of the company. "With the introduction of our initial features, we are determined to once again help authors and their selected publishing partners maintain control—not force sharing of their rights and revenue with yet another company. In offering the most innovative and simple online tools available, we place complete control of the e-book look and feel into the hands of those same authors and publishers. Folium Book Studio embraces the entrepreneurial spirit of its users, and grants them the freedom to express their personal flair in a fun DIY project."
Folium Book Studio helps make it possible to design digital works quickly and easily, saving authors/publishers hundreds of dollars compared to current e-reader pre-publishing service options. The online services are offered both individually, for authors and publishers who want simple e-pub conversion, cover artwork only, and as a soup-to-nuts service. Pricing is flexible, starting as low as $79. The service is designed to suit the needs of many classes of writing, from novels, to writing club anthologies, family genealogies, and individuals stories shared privately with family members.
The Folium Book Studio team's dedication to engineering excellence is underscored by a 45-day customer satisfaction guarantee, which is unique in the industry.
Folium Partners, Inc. comprises a team of software and media professionals committed to developing cutting-edge technology that brings large-scale production to smaller-scale applications through all forms of media. For more information on Folium Book Studio, and the other time-saving publishing services Folium Partners has to offer, visit http://www.foliumbookstudio.com for more information.
# # #