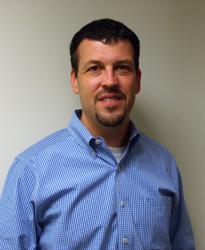 "Karl brings substantial leadership skills to the firm from both a project and business perspective. He also adds additional depth to one of our core engineering practices supporting our growth strategy," remarked Bill Overturf, Senior Vice President
St. Louis, Missouri (PRWEB) January 18, 2012
Ross & Baruzzini, a globally recognized engineering and architectural planning, design and consulting firm, has announced the appointment of Karl Miller as Senior Project Manager for the Saint Louis office. Miller will provide leadership of the project management practice taking responsibility for implementing and guiding this aspect of Ross & Baruzzini's business as well as management of selected regional and national projects and senior level electrical engineering support.
Miller brings nearly 18 years of experience managing multi-disciplined projects. He has worked across many market sectors including healthcare, industrial, utility and commercial. Prior to his position at Ross & Baruzzini, Miller served as Office Director for Henneman Engineering, Inc. in St. Louis. In this position, he served multiple roles including business development, project management and lead electrical engineer. He was also responsible for running the day-to-day operations of the office which included financial management, budgeting and scheduling of resources.
Miller holds a Master of Business degree from Eastern Illinois University and a Bachelor of Science degree in Electrical Engineering from Southern Illinois University – Carbondale.
About Ross & Baruzzini, Inc.
Ross & Baruzzini, Inc. (http://www.rossbar.com) solves clients' most significant and complex architectural, engineering, and technological challenges. We provide building design solutions – and the systems that bring them to life and put them to work – in ways that are innovative, practical and enduring. Ross & Baruzzini specializes in design for facilities and infrastructure in transportation, healthcare, higher education, government and facilities requiring 24/7 operations. Founded in 1953, Ross & Baruzzini is continually ranked as one of the top engineering firms in the nation. The company has regional offices in Miami, Indianapolis, Chicago, and New York and corporate headquarters in St. Louis.
# # #