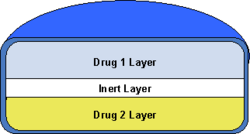 PharmaDirections is our primary drug development consultant and manages subcontractors on our behalf. *
Cary, NC (PRWEB) January 19, 2012
The patent discloses multiple layered pharmaceutical formulations for drug products such as Contrave® and is owned by Orexigen Therapeutics, Inc. In this example, the middle layer dissolves in vivo to leave the pharmaceutical layers intact. This was done to separate potentially interacting layers from one another within the tablet and to allow each pharmaceutical layer to have its own controlled release profile. Dr. Richard Soltero, President of PharmaDirections, was involved in the formulation development and is one of the co-inventors.
"Our collaborative effort with Orexigen resulted in multiple accomplishments including this issued patent and the submission of 4 other patent submissions" said Dr. Soltero. "This brings us to 19 submitted and issued patents for our clients where PharmaDirections staff was one of the inventors. We have helped a lot pharmaceutical companies find additional intellectual property by solving problems of bioavailability, stability or off-label competition using PK modeling and our formulation expertise."
*During the period from 2005 to 2008, PharmaDirections developed and manufactured several products for Orexigen including Contrave® and Empatic™. This relationship was published in Orexigen's S-1statement issued in 2005.
About PharmaDirections:
PharmaDirections is a pharmaceutical project management and consulting group focused on CMC(Chemistry, Manufacturing and Controls), formulation development, preclinical and regulatory affairs. They utilize a mix of technical expertise, software and proprietary tools, such as GastroPlus, when inventing new intellectual property for clients or developing formulations that solve difficult problems.
###