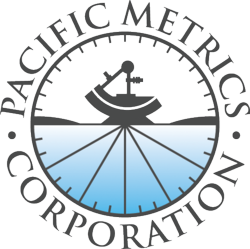 By sponsoring and participating in these conferences, we are reconfirming our support of the changing landscape of educational assessment.
Monterey, CA (PRWEB) January 18, 2012
Pacific Metrics Corporation (http://www.pacificmetrics.com), a leading provider of online assessment solutions, is participating as a sponsor for two key industry association annual conferences in 2012; the Association of Test Publishers (ATP) and the National Council of Measurement of Education (NCME). In addition, members of Pacific Metrics will be making presentations on automated scoring and online assessment technologies at these and at several other conferences.
Pacific Metrics is a Silver Sponsor for the Association of Test Publishers Annual Conference (http://www.innovationsintesting.org) taking place February 26–29 in Palm Springs, Calif. This conference "offers the breadth and depth of content that professionals need to remain current with the evolving testing and assessment industry." In addition to participating as a Silver Sponsor, Pacific Metrics' Executive Vice President Stella Gibbs will be on a panel of experts. The discussion, "Deploying Automated Scoring: Vendor Perspectives on Implementation" will outline the automated scoring engines available from ETS, Pacific Metrics, and Pearson, and how they can be incorporated into testing programs.
The annual meeting of the National Council on Measurement in Education (http://www.ncme.org), held April 12–16 in Vancouver, Canada, brings together professionals in the area of educational measurement. In addition to sponsorship, Pacific Metrics is leading the symposium, "Advances in Automated Scoring Reliability," organized by Dr. Lei Yu. In this session, researchers from ETS, Pacific Metrics, and Pearson will present the progress and innovations on automated scoring reliability. This includes discussions on using automated scoring to monitor rater performance, the reliability of scoring procedures, automated scoring consistency for students, and new methods for reliability estimation. Additionally, Dr. Phoebe Winter, Vice President of Education Policy for Pacific Metrics, will participate in the NCME Graduate Student Issues Committee's invited symposium. The session, "Emerging Issues in Graduate Student Preparation and the Work of New Professionals," will review how reform efforts are changing the work of state departments of education and testing organizations. In addition, Pacific Metrics Psychometrician Dr. Tia Sukin is presenting her paper, "Presenting a Validity Argument for a Statewide Alternative Assessment: Addressing Inferences with Novel Approaches," and Psychometrician Dr. Josh Goodman is presenting, "The Impact of Item Position Change on Item Parameters and Common Item Equating Results."
During the Council of Chief State School Officers' (http://www.ccsso.org) National Conference on Student Assessment from June 26–29 in Minneapolis, Pacific Metrics will be delivering two presentations. The first, titled "State Support for Classroom Assessment," will provide an analysis of two interim assessment models for supporting student learning. Representatives from the Pennsylvania Department of Education and the Louisiana Department of Education, along with assessment users and developers, will describe their programs for supporting local assessments, show examples of the assessments and how they are used, and discuss the effects of the assessments on student learning. The panelists will also discuss the implications of the Common Core State Standards and common assessments for their systems. The second presentation will feature members of the Pacific Metrics Research Department who will discuss an Enhanced Assessment Grant, funded by the U.S. Department of Education. The grant involves a consortium of four states led by North Carolina, and examines the feasibility of using online mathematics assessments that consist entirely of constructed-response items. The presentation, "Using Technology for Better Measurement: An Evaluation of Machine-Scored Online Constructed-Response Assessments in Mathematics" will include an overview of the study, the process for selecting content standards and developing items, and implementation of the study in schools and data to show the results.
"We are continually working toward the goal of improving the assessment landscape through the development of innovative technology-based products and solutions" states Howard C. Mitzel, Ph.D., President and CEO of Pacific Metrics. "By sponsoring and participating in these conferences, we are reconfirming our support of the changing landscape of educational assessment."
Pacific Metrics staff will also participate in the annual meeting of the American Educational Research Association (AERA), April 13–17 in Vancouver, Canada, where Dr. Goodman is involved with a presentation titled "Evaluation of a Game-Based Performance Task for Measuring Collaborative Problem-Solving Skills." Pacific Metrics staff will also attend the International Society for Technology in Education (ISTE) conference June 24–27, in San Diego. For more information about Pacific Metrics, or any of their assessment solutions, visit http://www.pacificmetrics.com, call (831) 646-6400, or follow them on Twitter at @PacificMetrics.
About Pacific Metrics
Pacific Metrics Corporation creates lasting improvements to the assessment and learning environment through the thoughtful use of technology. Headquartered in Monterey, California, Pacific Metrics provides specialized psychometric software and sophisticated online systems to state departments of education and to organizations that develop, administer, and score large-scale assessments. The company has achieved recognition for its technical work and for being a leading force in the development of innovative, customized, web-based systems. For more information, visit http://www.pacificmetrics.com.
# # #