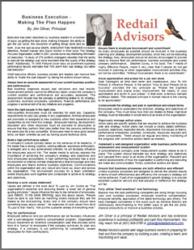 Planning is a start. Execution gets it done.
Temecula, California (PRWEB) January 18, 2012
Sometimes it's not the plan that fails, but the execution of the plan. That is the key premise behind a white paper released today by Redtail Advisors, an exit planning and business consulting firm in Southern California.
"We see it time and again - business owners and managers prepare a detailed and well thought plan, but fail to execute," said Mr. Oliver. "In every aspect of business, execution is key to building value. But unless you can measure your performance against milestones and benchmarks and get your whole team to buy in, you are going to have a real challenge."
Twelve critical keys to executing against a business or exit plan are detailed in the paper entitled "Business Execution - Making the Plan Happen," which is available here or on the company's website. Following these steps can help build company morale and value.
"It's not enough to plan," explains Oliver. "You have to commit to the plan and focus on execution. We have created a special tool, Value Creation Insights, that dives deeply into the company and analyzes all of the business value drivers. We look at where you are, where you need to be, and create an execution roadmap that will get you there. Then we meet with management on a regular basis to review against the plan and make corrections as needed."
About Redtail Advisors
Redtail Advisors is a business consulting and exit planning advisory that helps private companies build value and prepare for ownership transitions. The company utilizes a proprietary technology, Value Creation Insights, to provide deep insight into the business operations and processes of their clients, and works with management to produce an execution roadmap that improves business value and paves the way to a smooth transition. More information can be found at http://www.redtailadvisors.com.
###