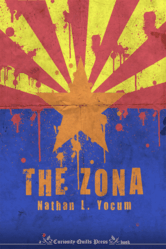 THE ZONA is a high intensity, guns-blazing feast for the mind - a modernized reboot of the Western genre.
Leesburg, VA (PRWEB) January 17, 2012
Award-winning screenwriter and author Nathan L. Yocum's post-apocalyptic thriller - THE ZONA - will be published by Curiosity Quills Press on February 15, 2012, making it an exciting time for fans of dystopian and post-apocalyptic fiction.
THE ZONA is a tale of a brutal society risen from the ashes of war and disease - the Reformed Arizona Theocracy, or simply put, the Zona. Here, the laws are simple: all sins are punished swiftly and violently. The enforcers, otherwise known as Preachers, roam the lands hunting disgraced men and women. But what happens when Preachers stop killing? What happens when men of honor take a stand against their rulers?
Nathan L. Yocum has this to say about his upcoming debut:
"THE ZONA is a high intensity, guns-blazing feast for the mind - a modernized reboot of the Western genre. Tumble weeds are joined by plastic shopping bags, cars sit as empty monuments, survivors live in derelict buildings without the means to rebuild. Far below the surface, however, THE ZONA is an examination of free will versus determinism. Is there such a thing as free will, or are our choices dictated by the needs of the moment or the wants of higher authorities?"
The entire Curiosity Quills Press team is gearing up for the book launch with availability for publisher and author interviews, as well as Advance Reading Copies (ARCs) for book bloggers, reviewers, and press.
"We're all stoked to be partnering with the likes of Mr. Yocum, whose literary talent we expect to be well received by casual readers and reviewers alike," shares Marketing Director Lisa Gus. "With THE ZONA now available for advance reading, I look forward to reaching out to fellow bloggers and spreading the word before we officially kick off."
THE ZONA will be priced at $2.99 for the digital release on February 15, 2012, and will be followed by a $12.99 paperback release soon thereafter.
"I've always enjoyed stories that engaged me on the animal and intellectual levels," tells Nathan L. Yocum. "THE ZONA is a product of that enjoyment."
About Nathan L. Yocum
Nathan L. Yocum is a writer, teacher, and entrepreneur living in the jungles of Hawai'i.
As a writer Nathan's inspirations include Kurt Vonnegut, Cormac McCarthy, George Orwell, Aldous Huxley, Charles Bukowski, but admits that the list goes on and on.
Nathan is also the editor-in-chief of SpecLit Masters Magazine, an eZine featuring the best in new speculative short fiction.
His first novel, THE ZONA, is being published via Curiosity Quills Press in February, 2012.
About Curiosity Quills Press
Curiosity Quills Press (http://curiosityquills.com), launched its independent publishing imprint in June, 2011 by writers, for writers, out of a common frustration with the state of publishing today. Instead of relying on readers to sift through the so-called "Amazon slush-pile", CQ presents a uniformly top-notch level of quality, tastefully curated, hard-hitting storylines, and memorable characters readers won't forget amidst their Kindle downloading sprees.
We know it's hard to stand out from the crowd when it's millions large, but Curiosity Quills Press helps level the playing field through its members' innovative social media approach, a transparent culture, and a deeply passionate team.
# # #