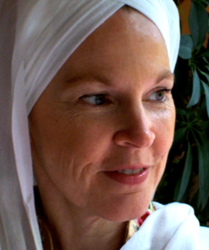 Art and Yoga is a beautiful, clear and useful book. It presents an accessible practice of yoga and art for healing oneself and one's community. Deepak Chopra
Clearwater, FL (PRWEB) January 18, 2012
Renowned artist Hari Kirin Kaur Khalsa, author of "Art and Yoga, Kundalini Awakening in Everyday Life," will lead a workshop at Yoga Village of Clearwater on Sunday, January 22, from 1pm to 4:30pm. NO yoga or art experience is necessary.
This workshop will teach students how to begin or deepen their yoga practice with simple art, movement and creative writing exercises. Hari Kirn will help students tap into their inner world and find their own way to move forward with intuition and creativity. (See more at Hari Kirn's website.)
The class will include Kundalini yoga, breathing exercises and movement as ways to awaken the body's natural vitality, release patterns of stress, and prepare the mind and body for creativity and transformation. Students will move from yoga or meditations to making art using a variety of drawing materials that include water-based paints on paper. Every soul has images, poetry and movement -- Hari Kirn will lovingly guide students to be open to them.
At the end of the workshop, students will leave with artwork, a yoga routine and a meditation to practice at home. Students can preregister for $30 or pay $35 on the day of the event.
Yoga Village of Clearwater is Florida's premier yoga studio and school. In addition to hundreds of classes each month, its schedule features a steady stream of day, weekend, and year-long teacher trainings presented by nationally and internationally known experts in Hatha Yoga, Kundalini Yoga, and various spiritual practices. They can be found on Facebook and reached by phone at 727-712-1475.
###