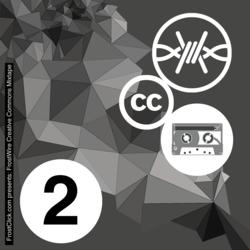 FrostWire jump-started my music career by giving away my album for free to over 130,000 people. Paying for that type of exposure would have cost me over $50,000 on other outlets such as taking out FaceBook ads or Google PPC --Kellee Maize
Miami, FL (PRWEB) January 19, 2012
Celebrating 2.5 Million Free and Legal Creative Commons licensed album downloads via FrostWire promotions in less than a year, FrostClick.com presents the FrostWire Creative Commons Mixtape 2.
Side A of the Mixtape contains a track from each one of the albums featured on FrostWire during 2011 – from vibrant hip-hop beats, through catchy pop to powerful electronic synths, anybody can find their new favorite artist.
Featuring Kellee Maize, Bryyn, Azoora, Elemint, Baiyu and many others, both new and established artists who understand that the future of the music industry lies in setting their music free to roam the world. This ever-growing distribution model brings even more opportunities for monetization, reputation build up, culture creation and establishes stronger and more meaningful connections between artists and their fans.
Narrowed down to the best of the best Creative Commons licensed songs, Side B contains 12 additional tracks hand-chosen out of hundreds of amazing free albums reviewed by the FrostClick team last year. It's a gem in itself, showcasing the breadth and quality of free and legal content available online under Creative Commons.
Music speaks for itself – FrostWire just gives it a louder voice.
"It was by far the most valuable promotion I've ever done for my music career. I've done over 50 online marketing endeavors for my music, and none compare to the exposure I've gained through FrostWire." says Kellee Maize, an independent female rapper.
When asked for comparison with other digital distribution channels and its costs Kelle Maize goes on to say "FrostWire jump-started my music career by giving away my album for free to over 130,000 people. Paying for that type of exposure would have cost me over $50,000 on other outlets such as taking out FaceBook ads or Google PPC"
After sharing her music for free on FrostWire, Kellee Maize talks about how she is connecting with her fan-base on social networks "Because of FrostWire I've accumulated over 100,000 Facebook and Twitter followers."
FrostWire, one of the leading open source peer-2-peer file sharing applications, works with FrostClick.com, a free and legal content review website, to actively promote and help distribute Creative Commons Licensed content to its wide user base. FrostWire is available absolutely for free for Windows, Mac, Linux and Android.
###