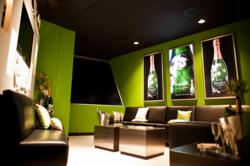 Sapphire, The World's Largest Gentlemen's Club, is Proud and Honored to Introduce The Perrier-Jouët inspired Skybox Lounge.
Las Vegas, NV (PRWEB) January 19, 2012
Perrier-Jouët, founded in 1811, is a world renowned Champagne from Épernay France celebrating a legacy of over 200 years of Champagne making excellence. Perrier-Jouët is not only known for their highly prized Champagnes, but also for their beautiful flower laden bottles and meticulous Champagne making practices. The house was founded by Pierre-Nicolas-Marie Perrier-Jouët, and produces both vintage and non-vintage cuvee, approximately 3,000,000 bottles annually, with its prestige label named Belle Epoque. Perrier-Jouët owns 266 acres of vineyards in the Champagne region. Today the house is under the Pernod Ricard umbrella of brands.
Sapphire, The World's Largest Gentlemen's Club is a leader in Champagne sales in the Las Vegas market and proudly carries Perrier-Jouët Brut, Belle Epoque Brut, Belle Epoque Rose, and the extremely rare Blanc de Blanc. These fine Champagnes may be found at Sapphire in all large format sizes up to the amazing 2 foot tall, 9 liter (around 12 standard bottles) Salmanazar bottle.
Sapphire has remodeled one of our ten, world-famous Skyboxes, taking inspiration from Perrier-Jouët to create an atmosphere that compliments all of Perrier-Jouët's fine and exquisite Champagnes. Sapphire Skyboxes provide customers with a more private and intimate setting where customers overlook the main floor where over 400 of the most beautiful women from all over the world entertain customers nightly.
The room is painted "Perrier-Jouët" green that compliments all Perrier-Jouët's flowered Champagne bottles. Beautiful contemporary black leather couches line the walls. Chrome and silver accent pieces adorn the tables and walls. Lighting for the room comes from subliminal light boxes on the wall that feature photographs of Perrier-Jouët's Champagne.
"This sleek, modern, and warm Perrier-Jouët inspired room is the first of its kind, not only in Las Vegas, but in the entire world. Where better to enjoy the company of one of Sapphire's lovely entertainers while sipping on the finest Champagne in the World?" states David Wachs, Director of Bar and Cocktail Operations at Sapphire.
"Our goal was to create something that was truly unique and first of its kind in any night club in Las Vegas. Not only do we feel that this was accomplished, but every guest that tours and utilizes the lounge is absolutely blown away." Wachs adds.
Sapphire, located at 3025 S. Industrial Road in Las Vegas, is the World's Largest Gentlemen's Club with 70,000 square feet of topless entertainment. Open 24/7, 365 days a year to patrons 21 and over. Sapphire serves the finest variety of cocktails, wines, champagne and cigars.
For reservations call 702.869.0003 or book online at http://www.SapphireLasVegas.com. And for special offers and updates follow Sapphire LV on twitter @sapphirelv. Sapphire provides complimentary transportation from all of the Las Vegas Strip Casino Hotels.
###